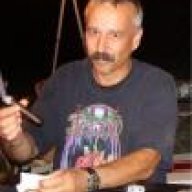 Gender:

Male

Birthday:

May 19, 1956

(Age: 59)

Location:
junkman_56
cigar smokin' caver, Male, 59, from Virginia
junkman_56 was last seen:

Jan 8, 2010
Loading...

Loading...

About

Gender:

Male

Birthday:

May 19, 1956 (Age: 59)

Location:

I'm a caver and a cigar smoker.<br />
I really love caving; vertical caving in particular.<br />
I also teach cave rescue with the National Cave Rescue Commission (Eastern Region).<br />
Longest rappel to date was 840' at the New River Gorge Bridge in Fayetteville, WV.<br />
The deepest in cave pit I have dropped was 332'<br />
<br />
I have a wife, two boys, a dog and a cat.<br />
To pay the bills, I'm a Network Engineer with a large ISP.

cigars (of course) and caving
Box Splits/5 packs:
alexgtp
Gonz
karlgriffin
cigardawg
echeck
Smokyballs
CvilleYoungGun
jeht2000
Jonesy
Cookie_1978
Satchmo
amateuraficionado

Passes participated in:
Hot Potato Pass
Poker Pass
BDTSF Multi-Sack Pass
The Great Nor'easter Pass
Show me your Corona and I'll... Pass

Wish list:
Winston Churchill cigar - Chequers
Padrón 1926 Serie - #6 or #35
Opus X - No. 4 or No. 5
AF Anejo #46
Illusione Epernay - Le petit or Le Elegance
P A M 1964 - Exclusivo

ISOMs
Partagas - Aristocrats
Bolivar - PC
H. Upmann - Upmann No 4
Hoyo de Monterrey - Short Hoyo Coronas
Ramon Allones - Small Club Coronas
Trinidad - Coloniales
Vegas Robaina - Familiar

Signature

Life should not be a journey to the grave with the intention of arriving safely in a pretty and well preserved body,
but rather to skid in broadside in a cloud of smoke, thoroughly used up, totally worn out, and loudly proclaiming "Wow! What a Ride!"

--Hunter S. Thompson


Loading...

Loading...