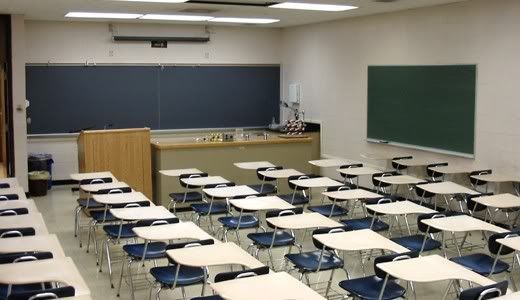 CP's "Cigar 101" Newbie Pass
The Bell's Ringin'! Get to Class!
Good Morning class! My name is Mr. Gandmlove and…..Bfreebern!! Please take your seat! You should be ashamed for picking on someone else like that! Now, as I was saying.....LilBastage!! Stop trying to look up her skirt!! Tsk tsk tsk. My goodness we have a rowdy class this mor….oh no….OH NO! AVB!!! Is that….is that a glass of scotch in your hand?? Give me that! You know it's against school policy to have alcoholic beverages on school property! Hand it over! (AVB slowly pulls out a fifth of scotch from under his desk, slowly hands it and the glass over). This is terrible! However, I'll let you slide this one time, but don't let it happen again! (Gandmlove goes back to the front of the class, turns his back to the room, and quickly gulps down the glass of scotch).
NO MORE DISRUPTIONS! Good Morning class and welcome to Cigars 101. My name is Mr. Gandmlove, and I will be your substitute teacher for today. As you all may have heard, the usual teacher of this class, Mr. Rod, was badly injured during summer vacation from a hot potato bomb that went off while opening his mailbox. He is in stable condition and should be back by mid-year.
Because this is my first time teaching this class, we will have two very much esteemed members of the staff joining us to ensure all goes well. Please welcome Professor BlindedByScience and Professor MmBurtch. Welcome to both of you and a very heartfelt thank you for joining us. I'm sure we all look forward to your guidance, so please feel free to jump in and participate at any time.
Now, let's get started.
Today we are going to do something special. We are going to have a little exercise we like to call a Newbie Pass. Some of you may have already heard of the Pass from upper classman and although it is not usual for a substitute to start out a new class with a Pass, I believe we could possibly attempt and succeed at a very simple one.
So first, what is a Pass? A Pass is an exercise that will take place outside of the classroom over the next several weeks where a variety of cigars is put together in a package, placed in the mail, and delivered to your home. Yes, there's a little money involved so be sure to tell your parents you will need some help. The first person to receive the package will remove one or more cigars they don't have and would like to try, and then replace those taken with one's they have. That person then sends the package on to the next person and so on until it returns back to the original sender. In my opinion (IMO), it's a very good learning tool not only for the education and experience with cigars, but also for building relationships amongst individuals in the pass, and outside the Pass as well. It is about having a lot of fun along the way!
Above you will find the initial list of 30 cigars of different variety that will start out the pass, each with its own identifiable number. I've also included the size. Each cigar will be placed in an individual baggie, and each baggie numbered based on where the cigar is in the list. All the cigars will then be placed in a larger baggie along with a humidification device, and then wrapped in bubble wrap, not too loose as to jostle around during shipping and not too firm as to crush the cigars. The wrapped package will then be placed in a sturdy air tight container with more bubble wrap, paper, popcorn, whatever is available to ensure the package of cigars does not move around. The container will be placed firmly in a box, sealed, and then be ready for the Pass. I will include in the package an inventory sheet that will list out all the cigars by number. This sheet will need to be filled out by each participant with name/screen name, Takes and Puts.
Here is the class syllabus, please take one and pass it back. Grateful 1, stop playing with your Opus!
SYLLABUS:
1)
I will list the cigars in order on the Board. The first person in the list who is to receive the package will go ahead and write on the board (before or during shipment of package) what cigars they will Take (T) from the package and what cigars they will Put (P) back in. I, with the direction and guidance of Mr. Mmburtch and Mr. B.B.S., will decide if the T/P is acceptable or unacceptable and confirm on the Board. In the event of any controversy, B.B.S. and mmBurtch will offer suggestions. Your "puts" should be equal in value with your "takes". Three $3 cigars doesn't equal one $9 cigar. You should use MSRP from more than one source on line to help with your P&T's. If you aren't sure, PM me first. Once approved, you should cross off your "takes" with a single line on the inventory sheet, and number your "puts" with the next # open on the inventory sheet. Individual baggies, permanent markers, and pens will be included in the pass (please make sure to put them back when done). Take a new baggie and using the marker, number the individual bag for each cigar being put back in starting from the last number on the list (please allow the ink several seconds to dry as to not smear). Bag the cigar and include them in the pass. Please do not remove cigars from the baggies.
2)
The package can be sent via USPS with a Delivery Confirmation (DC) number, UPS, or DHL. Each DC or tracking number will be written on the board once the package has shipped. If at all possible, sign up at USPS for
CLICK-N-SHIP
. Very simple and fast way to print your own shipping label, no muss no fuss at the Post Office, just drop it off (gees, I sound like a advertisement for USPS).
3)
You MUST write on the board once you've received the package and immediately contact via PM, Board, and phone (optional) the next person in the list to ensure they are ready to receive.
4)
If you are the next person to receive in the pass, it would be a good idea to go ahead and let everyone know you are there and ready. If you know that it is your turn next and will not be available to accept the pass, please alert everyone so the pass can be re-routed as necessary.
5)
If no confirmation is received from the next person on the list in 36 hours, then the package will be sent to the next person on the list that does respond they are ready.
6)
Please double-check the contents of the package to ensure everything is in order and good condition. If anything needs to be done such as increasing humidity or re-packaging/replacing the box, please make sure to do so.
7)
Please be prompt. Once the package is received, make the T/P's as quickly as possible and get the package out to the next person. T/P's should already be decided before the package arrives, so shouldn't take much time. However, there will always be exceptions.
a.
Homework Assignment:
I would like for everyone to research (before receiving the package, if possible) his/her cigars they plan to put in. Gather information such as name
*
, size
*
, wrapper
*
, binder
*
, filler
*
, strength
*
, and Manufacturer Retail Sales Price (MSRP
**
). Find as much detailed information as possible. This is a good way to get to know your cigars!
*
Here are links for help with
CIGAR INFORMATION
Also try
LINK 1
,
LINK 2
, and
LINK 3
.
**
Click here for
PRICING
help. You can also use links 1, 2, and 3 above for pricing if not found on CigarCyclopedia. To determine MSRP; find the cigar in the list, add all stores prices in the row, divide the total by the number of stores, divide by number of sticks on sale (use full box if available). This should give you the MSRP for each stick.
Now, I need 10 volunteers from the class who would like to participate (1,000 posts or less and a member for 6 months or less). Please raise your hands. Geldor1 put your hand down. You've been in this class three times already, so we want to give the NEW students a chance.
Okay class, here's our geography lesson for today. Each student will receive the pass in the order listed. Professor Mmburtch will receive first to make sure all is in order. Professor BlindedByScience will receive last to also ensure all is well.
I will put this list, along with each student's mailing address and any other pertinent information, in the package.
I have also made a few adjustments to the list of cigars.
LINK
to the cigar list.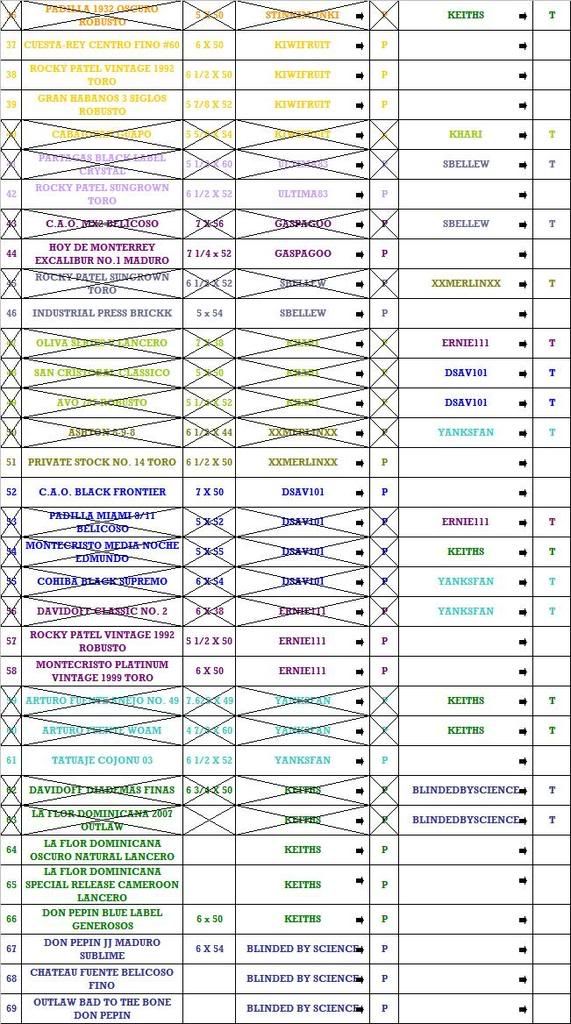 I will keep this list updated with Takes/Puts as we go. Please be sure to subscribe here and check back often. Again, please make sure to be available as often as possible as we want to keep the pass going as quickly as we can.
We are now ready to begin our new pass! Everyone open their
text
and turn to Chapter one. Yes DevilDoc, you can read first when the time comes. No Seegarfan, you can't go to the bathroom, you just went not two minutes ago. I want everyone to read chapters 1 through 4,437 and be ready for your first test in fifteen minutes. Oh yes, don't forget to turn in your 1,200 page thesis on Spirits & Wine: Which Goes Best With an ISOM (Island South of Miami)? Yes NorCalCigarLover, it can be over 1,200 pages. Also, please remember to attend Ginseng's cigar lab where he explores the chemical composition of the cellophane wrapper.
Preembargo! Wake up!
Well, you've made it! Ah, nothing like the old classroom! So, are you ready to find the treasure? Let's get to it shall we?
I have entrusted the treasure with someone on CP. What you have to do is find that one person! You get one chance and one chance only to send one PM (do not carbon copy multiple people!) and ask the question, "Do you have the treasure?" Here is the one and only hint for who the person is:
He's a FOG of the highest stature, a true Brother Of The Leaf. His kindness is unbounding, his humis Holy Grief! His hair all but gone, his pipes all lined up pretty, in my pass you'll see him…his mind really dirty!
No extra clues or hints. Hunt's over when treasure is found! Good Luck!!
Edited by Kingantz, 09 January 2008 - 11:54 AM.