Alright, so I've been wanting to expand my beer knowledge, and I finally had the ability to purchase a few beers that I've never tried before. The intent is to do a review on each of the following 18 beers to see what I can taste, and what I prefer. This is going to be a huge learning experience, and I undoubtedly will add beers to the list as I continue to find them.
The following beers were purchased today (3/17/09) from World Market via the "Create your own Sixpack Sampler"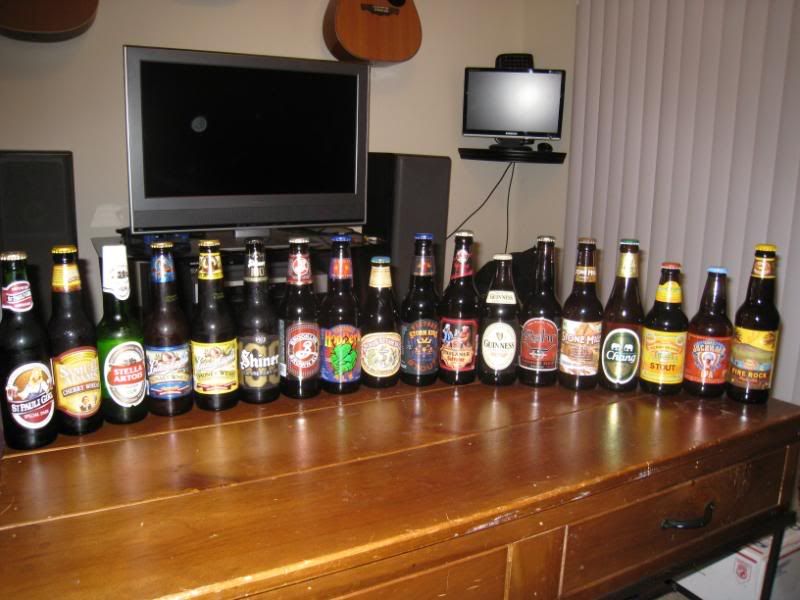 Left to Right:
1) St. Pauli Girl Special Dark (Munich Dunkel Lager)
2) Sam Adams Cherry Wheat (Fruit/Vegetable Beer)
3) Stella Artois Leuven (Belgium Imported Light Lager)
4) Leinkenkugels Sunset Wheat (Witbier)
5) Leinkenkugels Honey Weiss (American Pale Wheat Ale)
6) Shiner Commemorator (Dopplebock)
7) Brooklyn Brown Ale (American Brown Ale)
8) Vicotry Hop Devil Ale (American IPA)
9) Anchor Steam Beer (California Common/Steam Beer)
10) Victory Storm King Stout (Russian Imperial Stout)
11) Paulaner Salvator Double Bock (Dopplebock)
12) Guiness Extra Stout (Irish Dry Stout)
13) Rahr & Sons Rarh's Red Amber Lager (American Amber/Red Lager)
14) Stone Mill Pale Ale (English Pale Ale)
15) Chang Beer (Thailand - American Adjunct Lager)
16) Sierra Nevada Stout
17) Ahita Jockland IPA (IPA)
18) Fire Rock Pale Ale (American Pale Ale)
19) Samuel Adams Imperial Stout (American Double/Imperial Stout)
(TY MAS_Puros!
)
20) Sierra Nevada Bigfoot (American Barleywine) (TY MAS_Puros!
)
I will start the reviews on Thursday of this week and go down the list as time permits. I am very excited about this adventure and cannot wait to see what the world of beer has to offer!


Edit: I realize I've gotten a bit ahead of myself. I need someone's advice who is somewhat relatively familiar with beer. As I drink and review each beer I am going to want/need somewhat of a rating system familiar to that of a cigar rating system. Being so new to beer I am not sure what to look out for, so if any of you FOGs have advice on a good way to keep this organized and clean it would be greatly appreciated!
Edited by smokintexas, 14 April 2009 - 05:46 PM.