The other day, I went for a jog after work and later decided to hang at the beach. I looked through the cooler for a good beach smoke and decided on this new Fausto by Tatuaje.
It's the robusto size, FT127. It's rumored as being the same blend as the T110.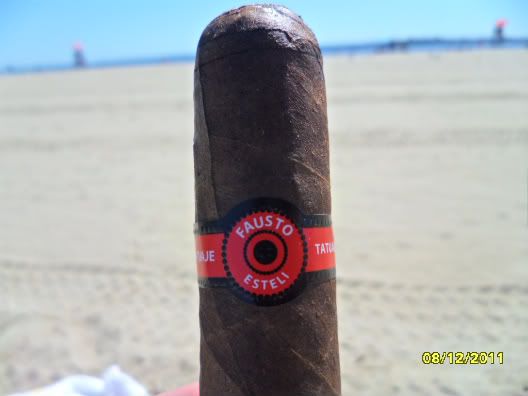 There was none of the pre-smoke formalities with this smoke. Just punched the cap and lit the cigar.
I remember texting Isy upon moments of lighting up and saying I feel like I just been hit with an uppercut
I knew it was going to be a full bodied smoke and I braced myself but still got hit.
It's sort of like you're boxing and you miss with a right cross (southpaw stance) because your opponent timed the dodge perfectly and his uppercut is already on its way. You only have time to bring that right hand back, protect your head, and brace for impact only to feel that uppercut still get underneath your guard, hit you flush on your chin and leave you stunned with your skin chafed from the Everlast leather and smelling a faint plastic burning odor coming from your mouth because your molars grinded against your mouth guard. Ahh, good times.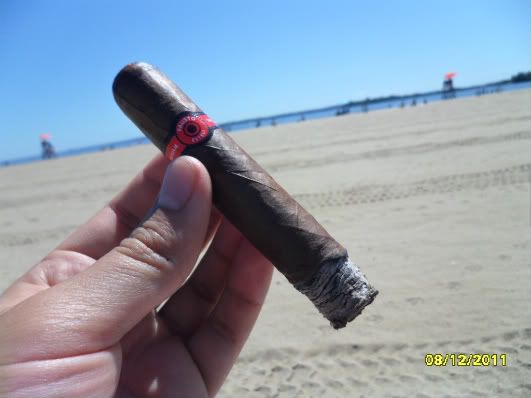 Bottom line, this was a strong ass cigar and I loved every minute of it. The strength seemed to settle down towards the middle but it was probably because my taste buds were getting used to it. I put the cigar down for about 5 minutes and tried again. Strength was still there.
Here you go Gary!! Your one dimensional smoke!!
BTW, I am happy to confess that I was at a public beach in NYC while I was smoking a cigar. Catch me if you can