I got a couple DIY pipe kits from EA Carey Smoke Shop (no affiliation, just bought these from them) in my mailbox this morning. I had ordered them in January, and they've been on backorder. I moved the last week of July, and miraculously Canada Post managed to get the box forwarded properly to my address in Saskatoon. Go Canada Post!
My woodworking skills are minimal at best. I don't know what the hell I'm doing, so I was expecting to cut off a finger, and carve a hole into the bowl.
I've been working on the first one today. It started out looking like this:
I started off drawing on the outside of the block. That didn't last long.
Using a dremel with a high speed cutter (the package of the one I used is Dremel #134), I went at it. After hacking away at it, I took a few pictures.
At this point I'm happy to still have all my fingers, nothing has caught fire, and the briar has the proper number of holes in it. A couple more hours with the dremel, and I had intended to take more pictures before sanding. I forgot.
For sanding I started with some generic 60 grit I had sitting around. The briar nicely removed all the grit from the paper and came out unscathed. So I headed to Home Depot and got some Norton Heavy Removal 60 grit. Followed that up with some generic 100 grit I had sitting around.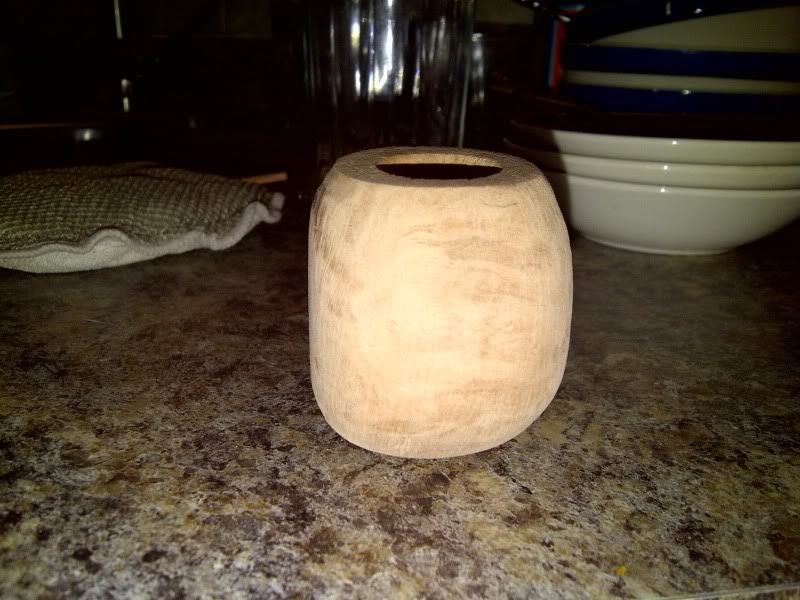 Oops, that's some terrible symmetry. So I attacked it again with the 60 grit, and followed it up with 80, 100, and 120. And that's where I've stopped for today. Tomorrow it gets the 150, and either whatever finer I've got in the garage or another trip to Home Depot.