A buddy of mine was goofing on me via Facebook and posted a video of this recipe where they took a pale loaf of Italian bread, cut off the top in a rectangular fashion, cleaned it out, shoved a whole brick of Velveeta cheese in there, carved out the middle of that, and poured a can of Hormel bean-less chili in there and baked it. His caption was, "Here's your next food challenge...barf!" It truly had heartburn written all over it...but it had potential I thought.
So, like any self respecting chef-wannabe...I made my own version of it. I started out with 1 1/4lbs. of 85% chopped meat, browned it, drained it and added in some sauteed onion, half a sweet red pepper, half a head of garlic, sliced black olives, a small can of tomato sauce, and half a can of chopped roasted/smoked poblano peppers. I've been on a kick with these peppers since I started making homemade empanadas a few months ago and had some in the fridge already. I love the smoky aroma and the fact that they aren't fiery hot on the tongue. Salt, pepper, cumin, oregano, granulated garlic, etc. and I simmered that for a few hours for a quick chili.   
Next came the bread. I went to the bakery and asked for the crispiest loaf they had and the girl pulled this one right out...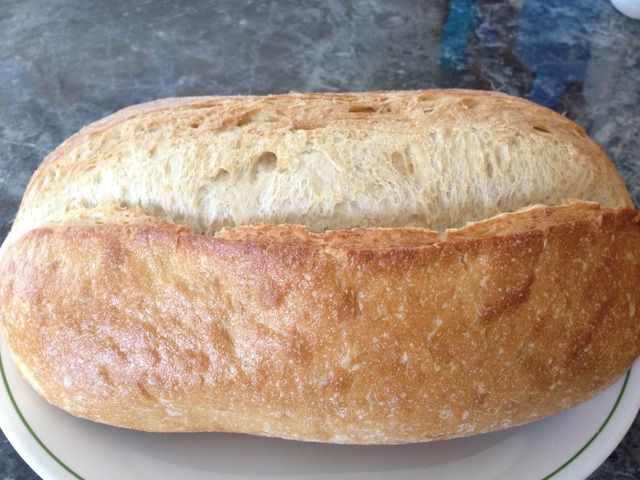 I carved out the top and took out the insides to make room for the chili & cheese...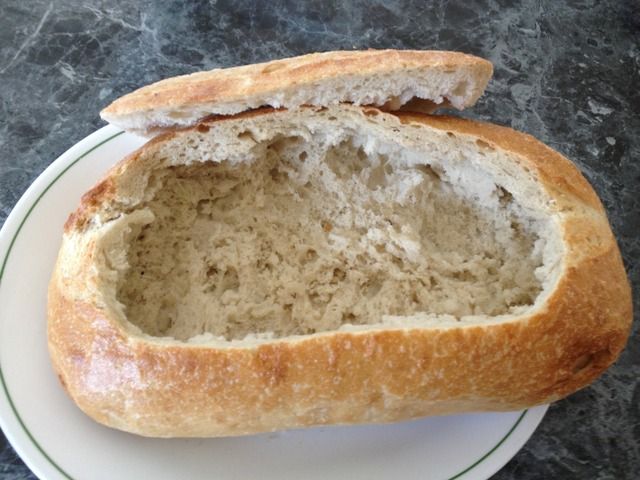 I had about a 1/3 block of Velveeta cheese in my fridge and cut it up into large cubes and stirred them into the chili. There was no heat under the pan as I turned that off about 20 minutes prior.  
I poured that into the bread bowl and spread it out evenly....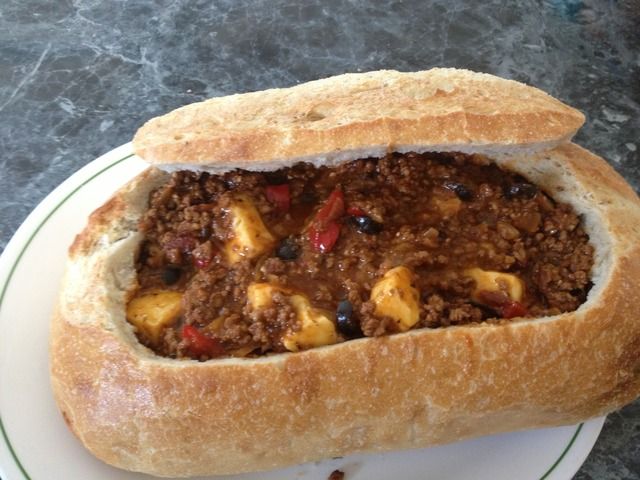 I wrapped it in foil with the lid back on and baked it in a 425 degree oven for 25 minutes.  
After that, I unwrapped it, took off the lid, placed that next to it, and put it back in the oven for another 10 minutes or so...and this is what it looked like.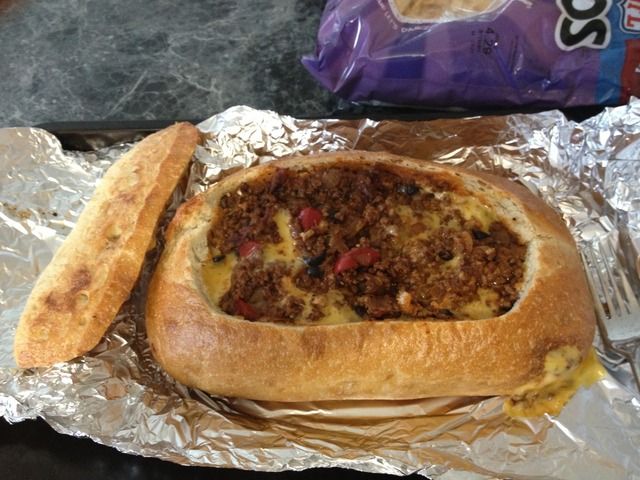 We gave it a stir and dug in with some Scoops tortilla chips. After we took down some of the chili, we ripped up the lid and dug in with that...it was so freakin' good it was hard to believe something so simple was so tasty!    
Once we got down to a thin layer of chili in the bread bowl, we sliced it up and ate that with even more beer. It was a perfect paring with the Rangers beating the Capitals in Game 7 of the playoffs!   
Try this and you won't regret it.  :thumbs: