Joined

Feb 10, 2010
Messages

232
Here's a good one for all you bacon fiends out there! (Are you reading this, Anthony?

)
The idea for this little treat has been making it's rounds on the internet for about a year now. I actually just discovered it today after watching a clip from the Food Network's
What Would Brian Boitano Make?
I present to you, the Bacone (yes, it's so awesome it should be capitalized!):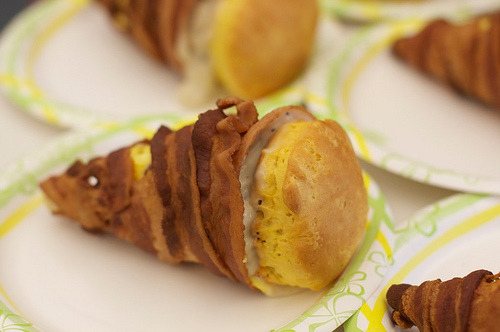 Its a cone made of bacon that's stuffed with eggs, hash browns, cheese, country gravy and topped with a biscuit.
Seriously, how ingenious is that idea? I haven't made it yet but will be trying it very soon. It looks simple enough. So, are you interested in making this? I know you are!
Here's the video of Boitano preparing the Bacone:
http://www.foodnetwo...rian/41242.html
Instructions for preparing the Bacone:
http://baconcamp.org/Bacone
BTW - Here's another cool bacon-related recipe from Boitano -
[url="http://www.foodnetwork.com/recipes/brian-boitano/bacon-cups-with-sweet-potato-hash-recipe/index.html"]Bacon Cups with Sweet Potato Hash.
[/url]