Joined

Jun 2, 2009
Messages

859
First off, I know this is far from an original topic but I figured I'd share anyway.
The wife bought me an Edgestar 28 bottle wine fridge on Black Friday for Christmas and I finally just completed the conversion from a wine fridge to a cigar mansion.
Since my father-in-law runs his own wood working business, he offered to make the drawers for me. I did tell him about the other guys on here that make them to sell and what their prices are. After it was all said and done he said he'd have been better off just paying for me to order a set from on of the BOTL's on here because he has no idea how they can turn a profit at the prices they charge. This just confirmed to me that we have some fine BOTL's here that offer very fair pricing but to me it is kind of special to have had this set made for me by my father-in-law. Everything is made from Spanish cedar except the drawers fronts which are made from Genuine Mahogany finished with clear Minwax Polycrylic (thanks for the tip GolfNut aka Forrest).
I'm all set up with a pound of 65% RH beads and three hygrometers and things seem to be holding fairly steady. Since I currently don't need the cooling feature I don't have the unit plugged in so there is a little bit of disparity between the top and bottom of the unit in RH (since the fan isn't running). I'm sure I'll still need to do something with the condensation once I actually plug the unit in (I've got the drain hole plugged with a piece of paper towel) but I guess I'll cross that bridge when I get there.
The father-in-law takes a picture of everything he's made to give potential customers an idea of what he's capable of doing. Here are a few pictures my Wineador's official photo shoot for for the website & photo album (the drawers fronts are unfinished in these pics).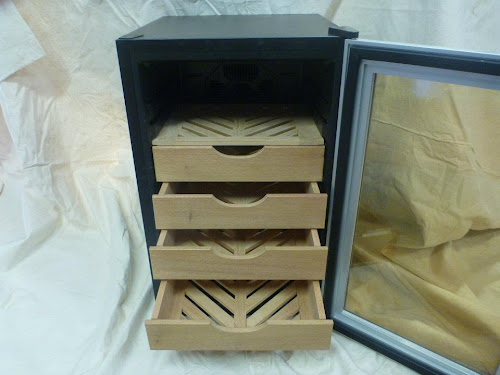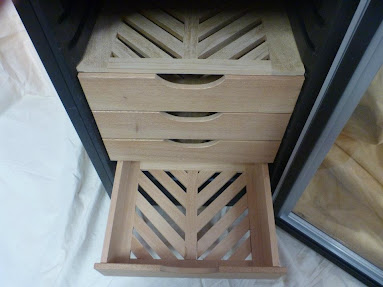 And here is the finished product in its final location for now (until the man cave is finished). The drawers fronts have the finish applied in these pics.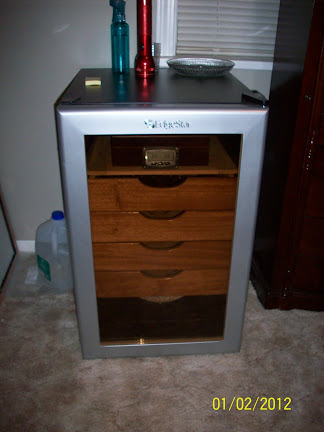 My trusty old desktop that has performed admirably for the past 2+ years resting comfortably on the top shelf: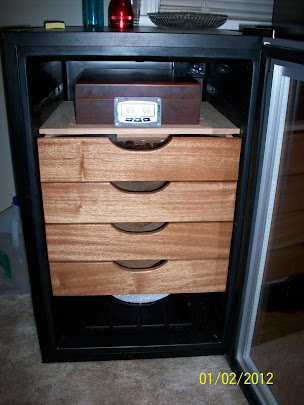 and finally my humble cigar collection resting in it's new home:
Now all I have left to do is fill 'er up. I don't think my wife knows what kind of monster she has just created.