Joined

Jun 18, 2003
Messages

12,581
Being a huge Islay fan, I wanted to get my hands on a bottle of Port Ellen to try. The Port Ellen distillery has been shut down for quite some time and finding a bottle of Port Ellen is getting harder and harder every day. According to my Michael Jackson book, the "Adjoining the distillery is a modern maltings, issuing pungent peat smoke lest anyone requires reminding of the island's preoccupation. The malt goes to two other Islay distilleries owned by United Distillers, Lagavulin and Caol Ila."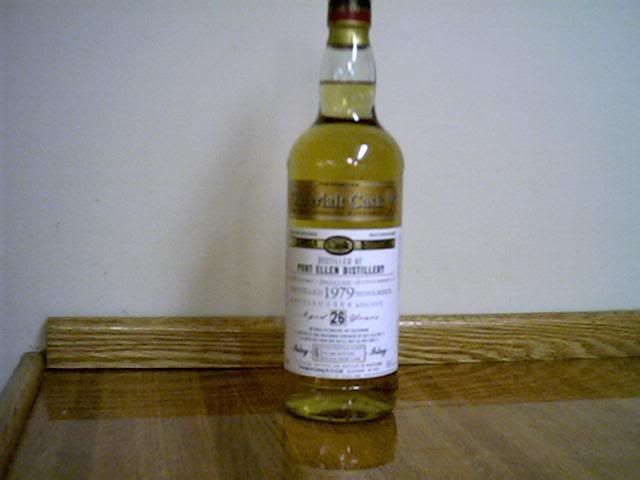 Port Ellen is the town where most people who travel to Islay first land when they arrive by ferry, it's very close to the Lagavulin, Laphroaig and Ardbeg distilleries which are my top three Islays on the south shore.
The bottle I was able to get my hands on is bottled by Douglas Laing & Co. LTD and it says it's one of 602 bottled from this particular cask. It's 100 proof or 50% alcohol by volume. My cost was $229.00 from ShopRite in Mercerville, NJ (tone-ny country
) .
I was kind of surprised at the light, golden color compared to the other Islays that I've been drinking lately.
Since I'm relatively new to scotch and my sense of smell and taste is neither refined nor experienced, I can't offer what I think is a very descriptive review of this fine scotch. It's a typical Islay but not with the pronounced "iodine" flavor of Laphroaig. I would call it "dry" and "peppery" but not quite as flavorful as the other Islays I've been drinking lately. I found it very smooth and a wonderful addition to my collection.
I did notice more of a kick with this Port Ellen (since it's 50% alcohol) than my other Islays but not enough to warrant an ice cube like the Ardbeg Uigeadial (54% :0 ). I can handle almost anything but not the Uigeadail neat.
While I enjoyed this very much, my Ardbeg "Lord of the Isles" is by far and away my favorite Islay to date.
EDIT: I followed up my second dram (not both in the same night
) of Port Ellen with some Caol Ila 18yo which I normally enjoy very much BUT drinking the Caol Ila AFTER the Port Ellen was a slight disappointment. This was an interesting experience for me because it made me realize just how good the Port Ellen is. :thumbs:
I plan on putting the Port Ellen in my "special occasion" category along with my other fancy Islays so I can make this fine bottle last as long as possible.