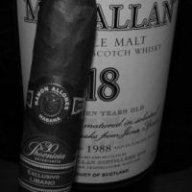 Gender:

Male

Birthday:

May 7, 1976

(Age: 39)

Location:
Bsneed51
Habitual Threadjacker!, Male, 39, from Kansas City, MO
I'm here. What more do you want? Sep 21, 2015
Loading...

Loading...

About

Gender:

Male

Birthday:

May 7, 1976 (Age: 39)

Location:

Cigars I like:
Padron: All of them
Fuente: Opus, Anejo, Don Carlos
Tatuaje: brown & black label, Cabaiguan Guapos, La Riqueza
Pepin: blue label, JJ, La Aroma de Cuba
Illsione: cg4, 88, Epernay
ISOM: RASS, H.Upmann, Partags, Montecristo, Cohiba
H. Upmann Sir Winston might be the best cigar made.

Seven years and going strong. I have enjoyed almost every minute I've been on here. I've made some great friends, and expanded my knowledge of cigars far beyond what I thought was possible, but I'm still learning new stuff everyday. That's what is great about this hobby.

Passes:
Getting Your Feet Wet II
Blind Cigar Review-PIF II
Cigar Pass it Forward II
You Learn Something New Every Year II
GAS Pass 2009
You Learn Something About Pirates Every Year
Parrot Pass
You Obviously Didn't Learn Anything Last Year Pass
2010 Cigar Draft
The Pass with No Name
The Final Lesson Pass
Jays Seven Day Pass
Sit Your Ass Down & Herf Pass
3 Prick's Pass
Still haven't learned Pass

Pass Ran:
Cops, Lawyers, Outlaws, and Asshats

Brent Sneed
7215 N Kentucky Ave
KCMO 64158

Interact

Signature

Best advice ever given on CP:

"I've got a Cuban in one hand, Scotch in the other. If I just had a French woman on my lap I'd be the fuggin' United Nations." -Alan Harper

Loading...

Loading...