Been reading up a bit in the CP Chef's forum, and the wife brought home some beautiful thick ribeyes so I got motivated to document my process for cooking a steak.
First things first.....you need to relax and prepare the mind for the fun you are about to have. I always like to start off with a glass or two of your favorite cab to go with a grilled steak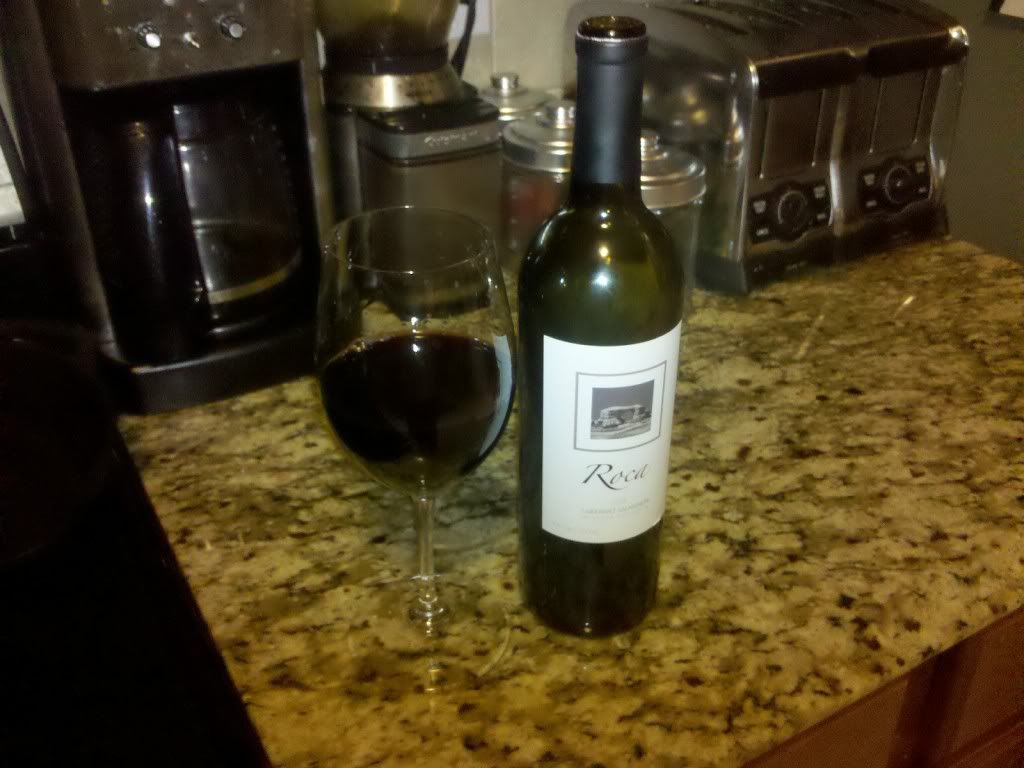 Next we move onto the steak. Normally my wife will get nice steaks, but not very thick. These were picked up at our grocery and were already cut nice and thick so she picked them up. I like to let them sit out at room temp for about an hour before I cook them. I only add sea salt and fresh crushed black pepper. This day I used kosher salt though, cause I was out of the sea salt.
I put the salt and pepper on right away and then let them sit for a bit.
Now the fun part. I have an old school weber kettle grill, but instead of using charcoal I like to use regular oak wood that I have for my smoker. So I'll head out to the wood pile and chop up some small pieces that fit well in the grill and will also burn down to coals quick. This is a key detail in using wood. If the pieces you use are too big around they just won't produce the coals you need and will have less heat and over smoke the steaks.
Cut, stack neatly, and light it up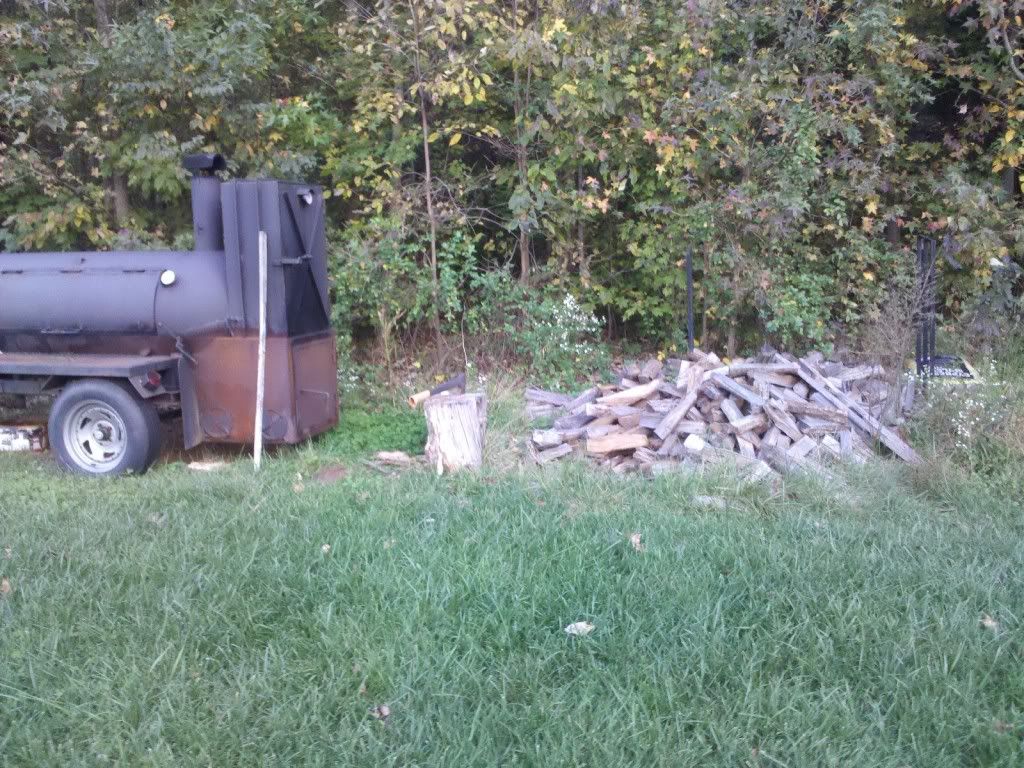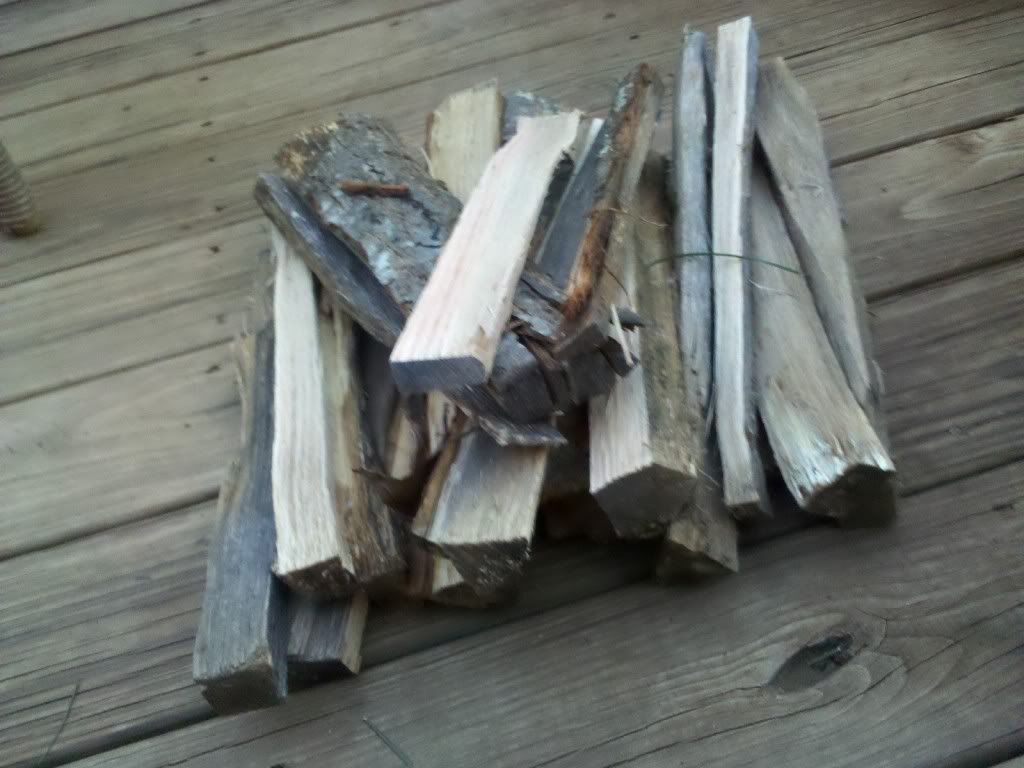 Once everything burns down to coals, its really easy to have a super hot fire. almost too hot and can burn the outside of the steak. I don't mean char either, burnt! Especially if your used to putting any kind of olive oil or marinade, especially if its got sugar in it. So I will take the hot coals and push them to one side and then cook the steaks 'indirectly' but I keep the lid partially open so lots of air is coming in and the fire is still really hot. The cooking time increases to about 20 minutes for steaks that are a good 1 inch thick, but they cook really nice. When they are ready to come off I give them about 1 minute on each side directly over the coals to finish them off.
When I bring them in, I like to lightly brush them with a mixture of butter, and a little secret oil I use. That detail is the only one I won't give ya
Finished product is delicious! The Red Oak wood gives them a flavor thats tough to beat! These were both a perfect med-rare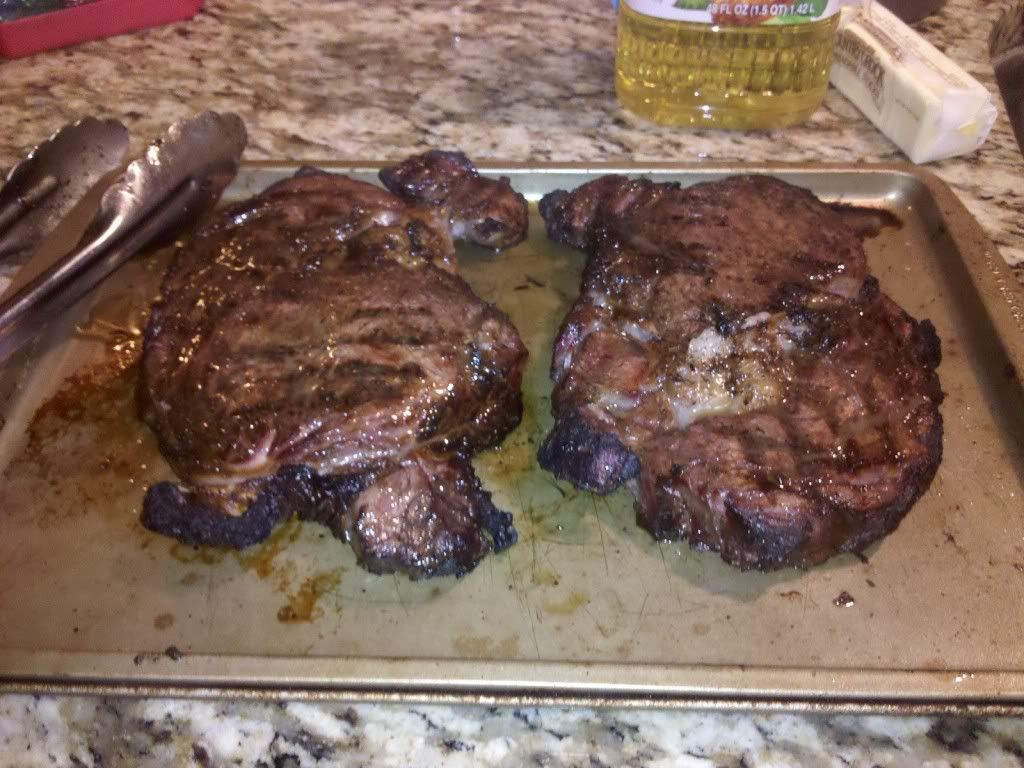 btw, the oil in that last picture is just the oil I use for starting the fire. That did not go on the steaks