My first cigar was a Montecristo Petit Tubos that my wife smuggled for me while visiting TJ....In her cleavage. I decided to keep her. <br />
<br />
What type of humidor would that be called?<br />
<br />
In the past, my favorite brand was CAO, but there are so many new companies and blends now I have to try them all! Haven't had the guts yet to try Cbid, but soon, buying single sticks will probably get too expensive.<br />
<br />
For next years growing season, besides my usual veggies, I will be planting Monte Calme Yellow, Long Red Leaf, Zimmer Spanish, Havana #608, and Havana Long Red Leaf. Those should make for some interesting blends. Assuming I can ever roll a decent cigar, I'll just have to find some guinea pigs...errr...brave individuals to try them after proper aging.<br />
<br />
Al C.<br />
13 Cypress Pt.<br />
Amarillo, TX 79124

Smoking cigars when I have the time, fishing, attempting to raise my own tobacco, my family. Not necessarily in that order.
Birthday

Jun 24, 1974 (Age: 49)
Location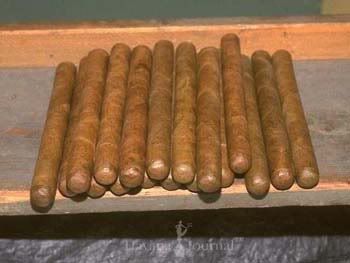 Gam Zeh Ya'avor