Joined

Jul 15, 2009
Messages

5,325
First, this is only possible thanks to Mr. "CC",
@CigSid
, Bill, and long overdue.
Start Time: 1400
Temp: 80°
Relative humidity: 71%
Drink: Hibiscus Tea
Sky: Overcast
The stick was well rolled with with wrapper forming the cap. I inspected the wrapper and smelled the foot. Nothing talked to me, not even hay. There was some tooth present on the wrapper along with a vein, but all was good. Cut about 1/3"off, tested the cold draw which was fine.
Prior to the light I did some research on taste buds because I seem to be lacking the magic for proper enjoyment. I did not know genetics play a part in taste along with only 25% of people have superior taste and 25% have poor taste. We also taste in our throat and epeglottis, nose and sinus. Hence, my corroded taste buds.
After lighting up and a few draws I think I found a cookie taste, actually quite nice. It came and unfortunately went, but the smoke was mild and began to lend a mild spice note. Upon doing a retro, nothing was added to that spice that I could detect.
Going into the 2nd third the spice continued but also moved back to mid tongue which was fine by me. Since I am a Maduro guy I like some conversation with the tobacco and with the spice moving back we achieved that wish. Also during this portion during retro I foot some nose tingles which again was fine, let's converse more I said. Moved on to the 3rd 3rd.
Had a bad burn, had to drop a nice ash and relight. Everything remained the same until 1456 when a leather note came up to visit me. I was surprised because I didn't expect to taste a dang thing, but sure as there are green apples, it was lite but pleasant leather. Yeah baby!
Wanted To capture this moment, perhaps I took too many but I wanted to sure of myself. Bad insertion, tough chit! Thanks brothers for putting up with this old dog.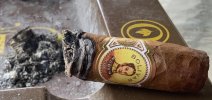 A bunch of re-lites but all is well. I am approaching the label. Removed it and smoked it down as much as possible. Had to end because of burn and too close to the fingers.
Final comment: Fine smoke, best of all I found some taste, light but enjoyable. All is well and appreciated thanks to Bill.