Joined

Nov 17, 2003
Messages

3,191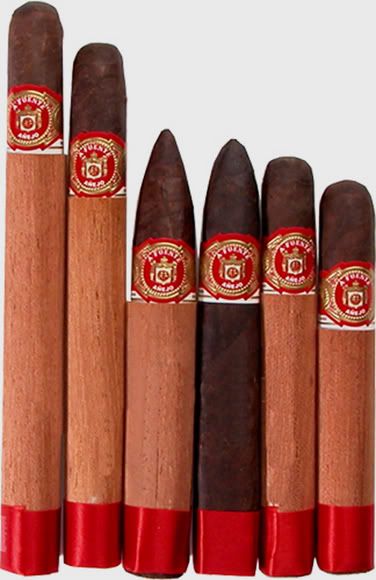 (L to R): #49 - #48 - #55 - #77 - #46 - #50
Añejo Reserva Xtra Viejo Limitada

Name.........................Size..............MSRP* / Box (Count)
No. 46.....................5.625 x 46........$ 7.25 / $181.25 (25)
No. 48.....................7.000 x 48........$ 8.75 / $218.75 (25)
No. 49.....................7.625 x 49........$ 9.50 / $237.50 (25)
No. 50.....................5.250 x 50........$ 8.00 / $200.00 (25)
No. 55.....................6.000 x 55........$ 9.75 / $243.75 (25)
No. 77 "Shark".........5.875 x 64........$ 9.25 / $185.00 (20)
*MSRP as of January 1, 2007 ( Verified by F&N document )
Prices
do not
include state tobacco taxes or state sales taxes:
State Tobacco Tax Rate Link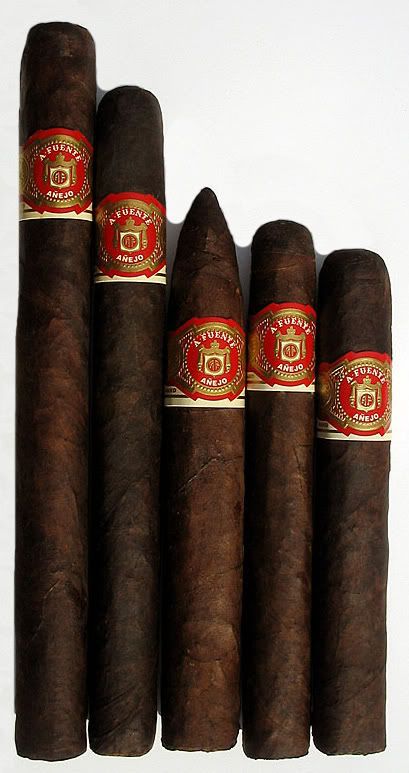 (L to R): #49 - #48 - #55 - #46 - #50
Original release Añejo Reserva Xtra Viejo Limitada
"Añejo (which means "aged, refined" in Spanish) cigars were originally released in December 2000 due to Fuente being skittish about whether enough Opus X tobacco would be available after the hurricane hit their farm in 1998. Añejos have a blend of Opus X, Don Carlos, and Hemingway filler, with Connecticut broadleaf maduro wrappers that are cured in cognac barrels after they've been aged. The original release Añejos have no cedar around them, and have wrappers that were aged in for 7 years (subsequent releases have the wrappers aged for varying time, generally about 3 years, and are all wrapped in cedar). Añejo No.77s (aka, "Sharks") are the exception; they were originally released in early 2001, and no release of the Sharks is wrapped in cedar. Contrary to popular belief, all releases of the Añejos have their tobacco aged/cured in cognac barrels for only 6-8 months... the bulk of the aging time is done in tightly packed bales." - Andrew Welch
NEW ARTURO FUENTE CIGARS COMING TO MARKET
By David Savona, May 2000
A new version of Arturo Fuente cigars were scheduled to begin reaching U.S. cigar stores by the end of May. The guts of the cigar, called Arturo Fuente Añejo, are similar to what's inside a Fuente Fuente OpusX. But unlike the Dominican-shade wrapped OpusX, the Añejo is made with Connecticut-broadleaf wrappers.
The cigars were rolled two years ago, after Hurricane Georges damaged Chateau de la Fuente, Tabacalera A. Fuente y Cia.'s Dominican wrapper farm. Fearing that he would run short of the Dominican-grown wrapper that he uses on Fuente Fuente OpusX cigars, Fuente president Carlos Fuente Jr. instructed his most skilled cigar rollers to use the broadleaf wrappers instead. The result was the Fuente Añejo.
The cigars have the same traditional band as other Fuente cigars, with a white band at the bottom in place of black or green. The word Añejo appears on the bottom of the band in place of the words Gran Reserva.
The filler and binder blend in the cigars is very close to that used in Fuente Fuente OpusX, and four of the five sizes are identical to the Fuente Fuente OpusX line. The cigars come in double corona size (7 5/8 inches by 49 ring), Churchill (7 inches by 48), robusto (5 1/4 inches by 50), corona gorda (5 5/8 inches by 46) and No. 2 (6 inches by 55).
Prices for the new brand haven't been determined, but Fuente said the Añejo brand would be priced similar to his Don Carlos line, which carries a suggested retail price of about $7 to $11 per cigar.
Like most Fuente products, these cigars won't be easy to find. "It was a very small production, and it's very old tobacco," said Fuente. "We made about 75,000 in total."
-Cigar Insider, 2000
Cigar photo credit ( top picture):
www.Cigar.com
(bottom picture ) Moki