This Por Larranaga Lonsdales is a German regional from 2006.
I had one of these years ago ROTT, it was ok, but slightly bland and one dimensional, so I threw them into the back depths of my aging cabinet and forgot about them… that is, until last week…
5 days in the dry box at 61% humidity.
Cold draw – Sweet hay, a bit of honey, and rich tobacco.
Initial lighting (first few puffs) Creamy, smooth and sweet. On my fourth puff, I thought to myself, this is something very special…
Well into the first third and this is when I started taking pictures, thinking that this might make a good review...
First third, lots of flavorful smoke. Molasses, honey, nuts and a bit of spice... For a thinner gauged cigar, you would expect a tighter draw, as well as less smoke in general… Not the case with these Lonsdales, crazy good at this point, still trying to wrap my mind around it. This is when I was first thinking that if this stays the same as it is now, it is clearly a 100 point cigar.
Nearing the end of the first third and I am getting cinnamon, and delicious notes of caramel and marshmallows, with an amazing creamy finish.
Second third, and it's getting better... Lots of sweetness in the form of caramel, nuts and spicy cinnamon. Vanilla and honey on the retrohale. Just a bit of the cap is coming off, but doesn't bother me at all...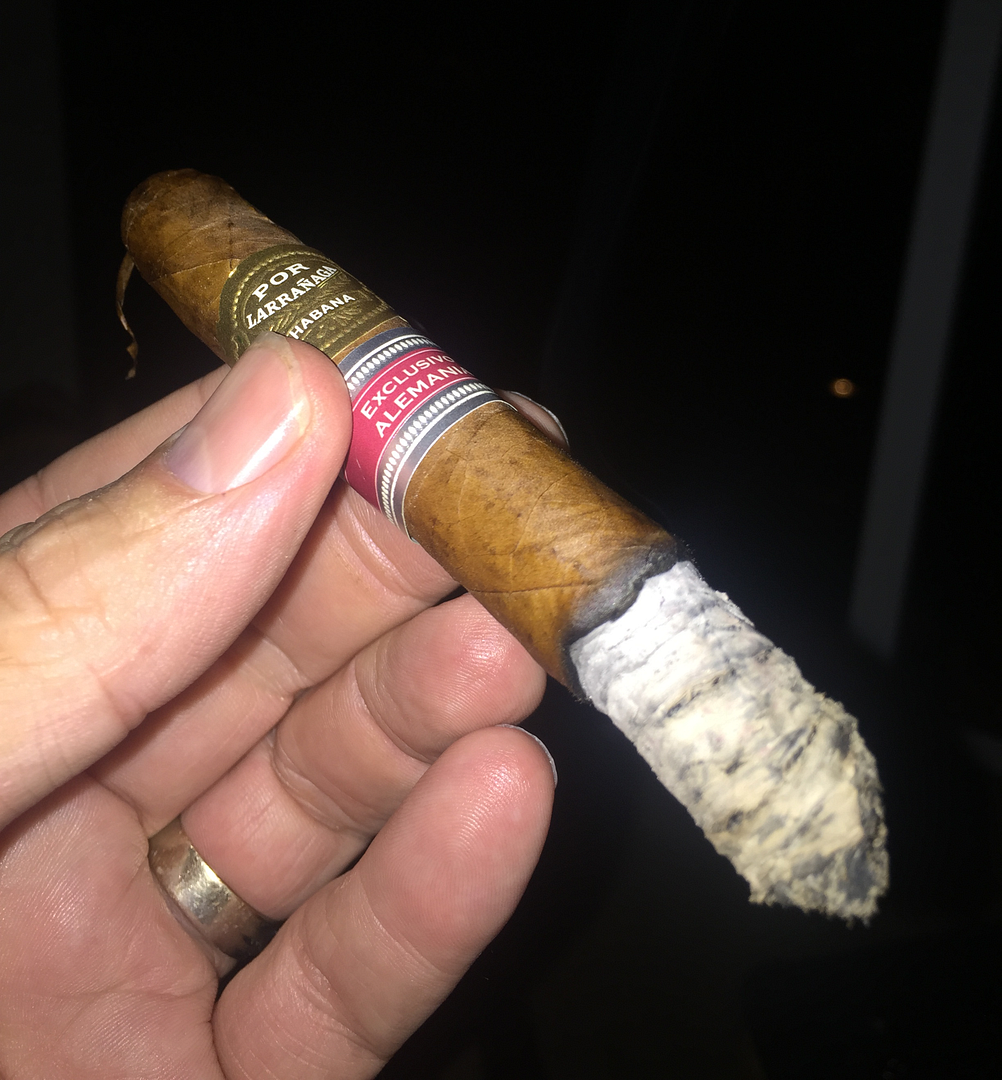 Well onto the second third, and have only a shed an ash twice... Amazing talent went into the creation of this cigar.
Now I know where I have tasted these favors before... it was the Por Larranaga Magnificos, which was an incredible cigar because of the size, the flavor and the tremendous amount of smoke it produced, but this one is even better...
The honey just coats your tongue, and you can taste it long after each puff, increasing in intensity and longevity...
As many puffs that I am taking, trying to get as much of this crazy good taste as I can, thinking that it can't get any better than this, you would think that it would get hot and bitter, but it keeps on delivering, staying cool, and blowing me away with its amazing favors.
At this point, I want to cut and purge... And you might think that's what I do when the cigar goes out, right?
Absolutely, but it also will enhance the flavors and clean the resin off the end of the cigar, and allow you to experience the most your cigar can offer:
First you cut the cap, just a bit more than your initial cut, maybe 1/16 of an inch, just enough to remove the area where the oils have collected, then you gently blow into the cigar.
Pure honey at this point, molasses and a bit of coffee in the background, and on the retrohale there it was, that elusive "nutmeg"... And lots of it..
Final third, the caramel is back, with cinnamon in the background... you have to pause after each puff because the flavors are unfolding and increasing in intensity, and morphing into other favors long after you blow the smoke out... Wow... This is really good...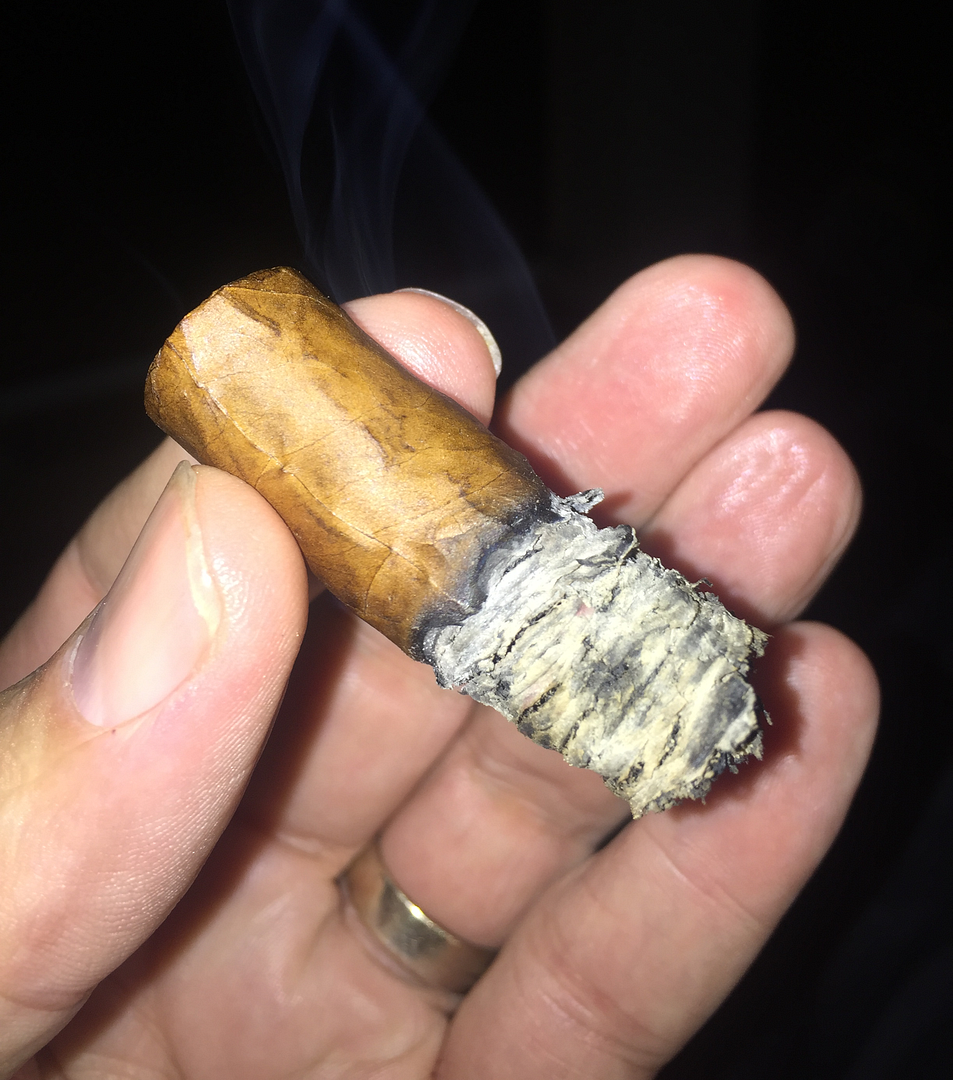 As I lick my lips, I can taste black pepper, honey and a bit of salt, and it makes me think... could this be the one that really was rolled on the thighs....
The next puff yanks me out of my hypnotic state, going into full throttle, the strength is full, the sweetness is alternating between honey, sweet grass and marshmallows... Just a bit of earth and black pepper on the tongue balances it out perfectly, almost as if it is cleaning the palate preparing you for the next sweet puff...
I reach for my trusty nubbing tool and think, I'm going to smoke as much of this as I can.
The last inch lasted 15 minutes... as I would draw in a large amount of smoke, I would slowly release it, the favors would last forever... and they would change with every few seconds...
Then it was done...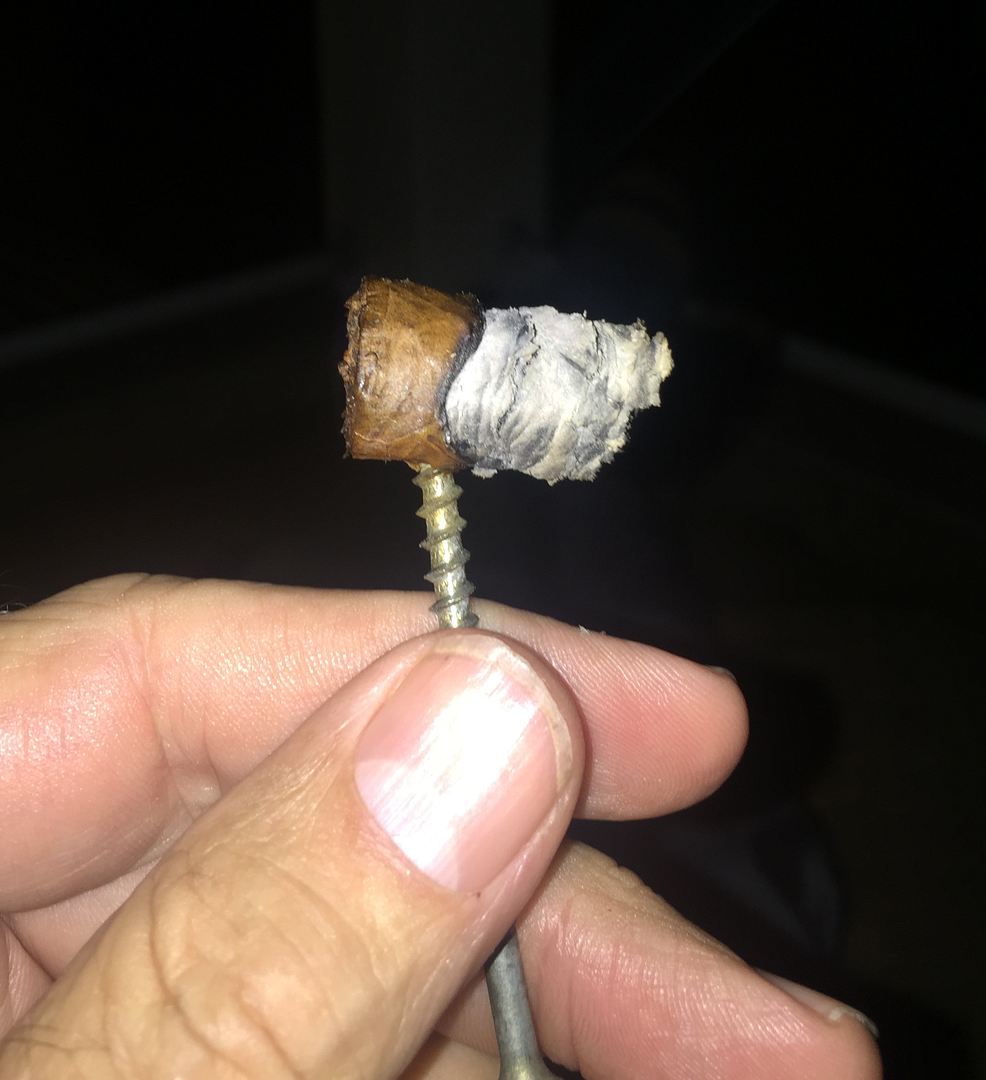 Final thoughts:
This cigar took about 110 minutes to smoke. (And literally 15 minutes just for the last inch)
I sat there for almost 30 minutes after I finished, without a drop of water, running my tongue around my mouth, licking my lips, and tasting salt, a spicy tingle, and honey and started thinking about those thighs again...
I consider myself a cigar connoisseur (a snob, according to some of the people who know me around here :laugh: ) and consistently smoke 20+ year old production Bolivar and Partagas, with that old tobacco taste, aged perfectly, some 97/98 cigars... and this one blew them away...
This was my first 100 point cigar, and hopefully not my last.
If you have these, cherish them. If you can find these... mortgage your home, sell your wife, kids and your dog, they are worth it!