Joined

Nov 14, 2007
Messages

2,119
So my close friend, Punk_Lawyer threw out a challenge and as far as I know no one else has accepted.
I ran the first
Warrior Dash
in Ohio and figured I would give a brief review to stir up some interest. The 2nd date is Sept 10th in Carrollton you can get more info
HERE
The Logan event had approximately 18,000 people over two-days and featured live bands, turkey legs and beer. For you single guys and married pervs alike, there were a metric ton of scantly clad, sweaty, muddy young ladies. The general premise is a 5k through, over and under various types of terrain and obstacles; including but not limited too, fire, floating logs, numerous walls and junk cars.
There is muddy pretty much every where, some people choose to leave their shoes on the pile others just left them in random places.
Spectators only get to see a few of the obstacles at the start and near the finish.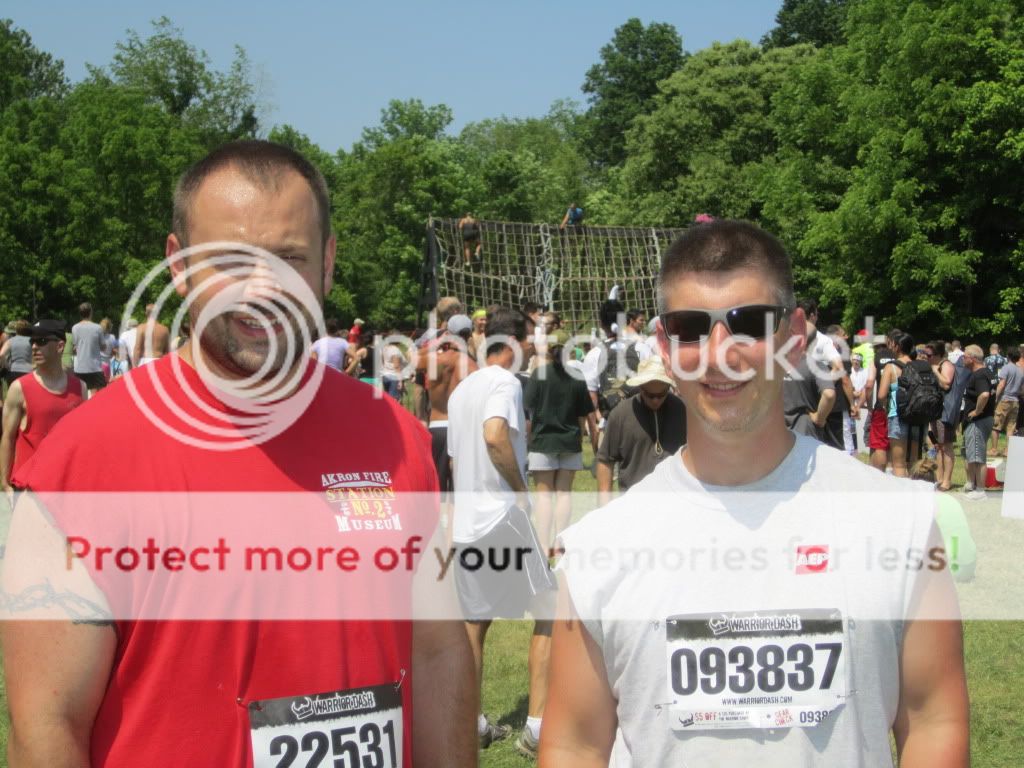 (L: Me, R: Brother-in-law)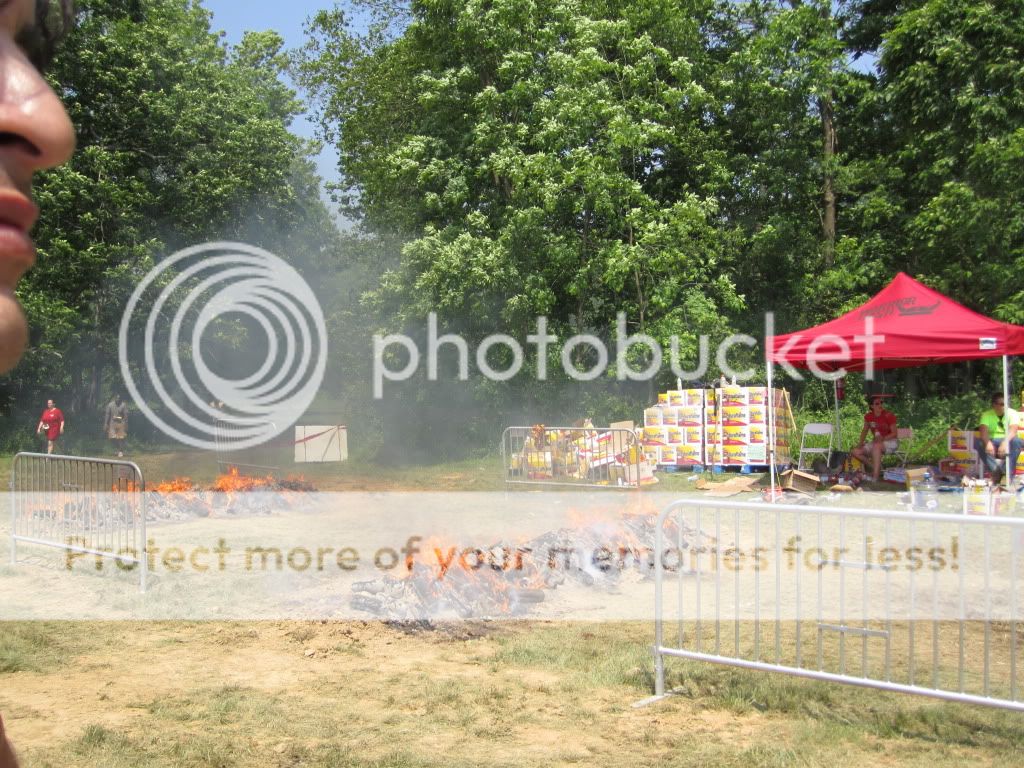 (Fire Pits before the Mud Crawl)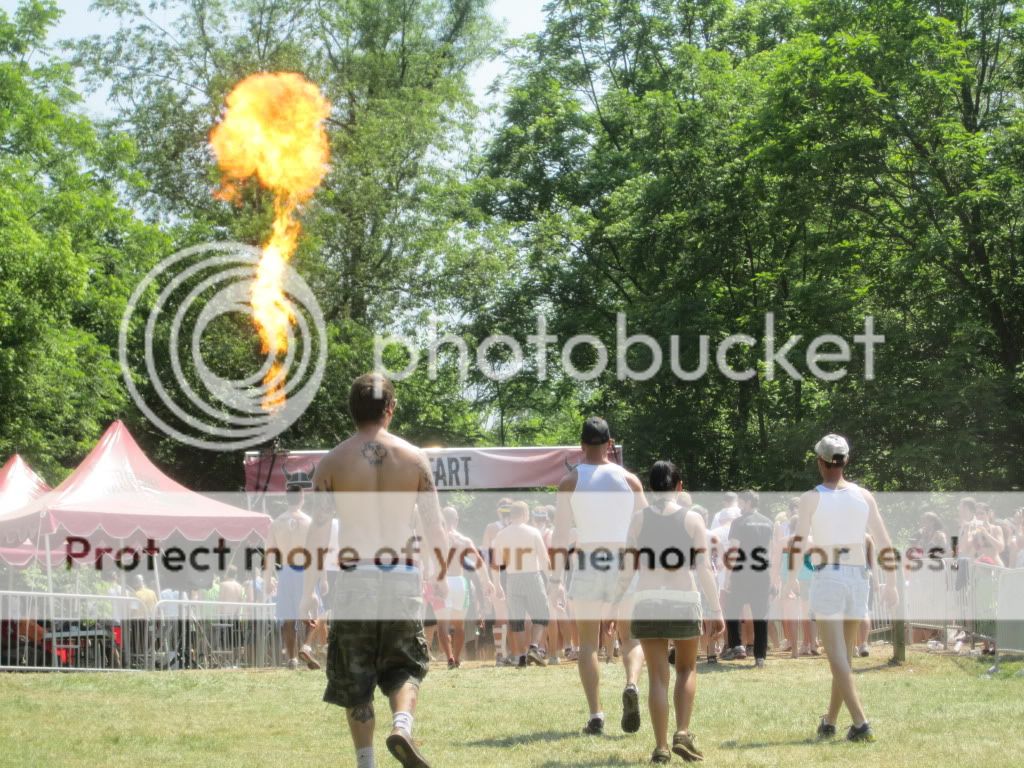 The first part was billed as a sprint to the top of a hill. It turned out to be 2 miles of ATV trails that they had hosed down and presented the hardest challenge of the day. The first mile wasn't so bad as you were fresh and the trail wasn't as muddy. The first obstacle was a series of low walls, you hopped over one and then under some barbed wire and then repeated that pattern. After about 100 yards there were some swinging tires you had to run through, neither of those were difficult. Next came a farmers pond that had 6 floating logs you had to maneuver over or under, I go about 6' 1" and the water was at shoulder height in most places but there were some drop offs. It was in the high 80's and sunny so a dip in the water seemed fun at first. It turns out being soaking wet and running is a lot less fun than it sounds. The next set of obstacles were some cars you had to jump over (or go through the open doors) and run through a series of tires, over some more cars, more tires, more cars and then back up hill.
The 2nd section of hills seemed to be steeper and muddier with some places being impossible to run with out cleats of some sort. That continued for a while and then you had to pick your way through some bungie cords in a make shift spider web. From their you had some flatter sections of 50 yards or so mixed in with steep declines until you came up to the cover trail crawl. It was a big tarp stretched across the trail at slightly lower than normal crawling height that lasted about 25 yards. From there it was more steep down hill until you came to the cargo net A-Frame.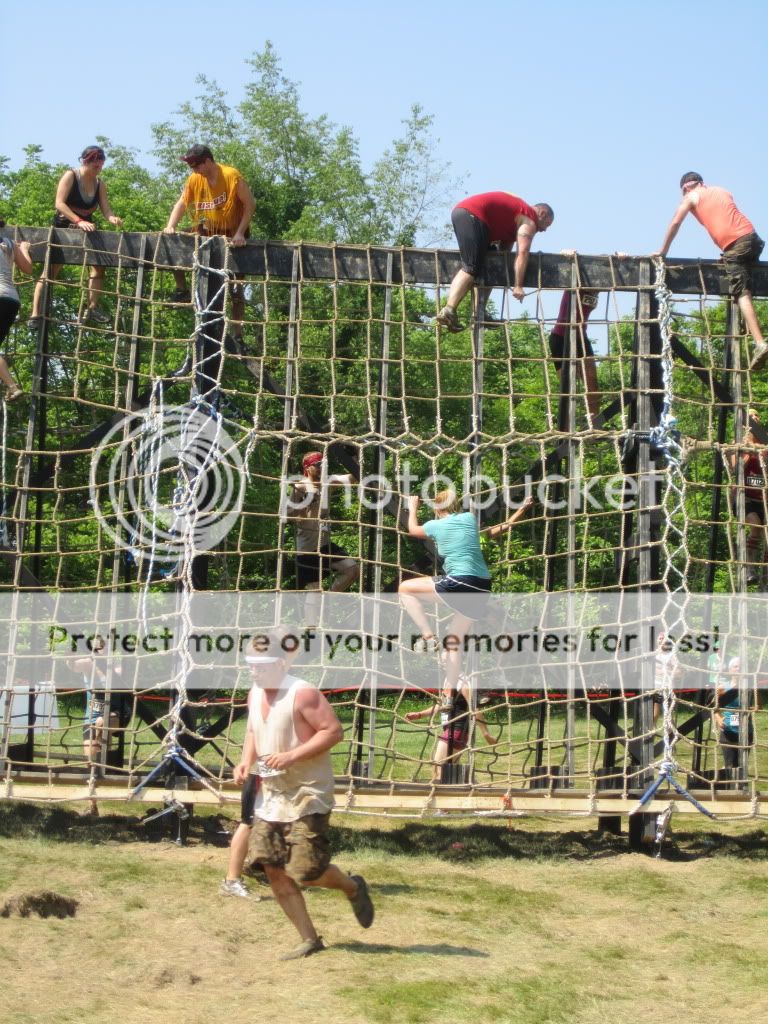 Its a bit awkward going over the top and the lady that grabs you cause she is freaking out will surprise you a bit.
From there it is over to a sort of elongated M-shaped balance beam and a short jog down to the creek. You run/walk/wade/splash/fall through the creek for a bit and then climb out and face a horizontal cargo net that is approximately 45 feet long and spread over three bays. This obstacle really seemed to slow some people up but I got some advice pre-course and breezed past it. Next came a 12ish foot wall you had to climb with a rope. It had 2x4's nailed a various levels to help you get over. From there it was smooth sailing over the fire pits and into the mud crawl with *gasp* "real barbed wire".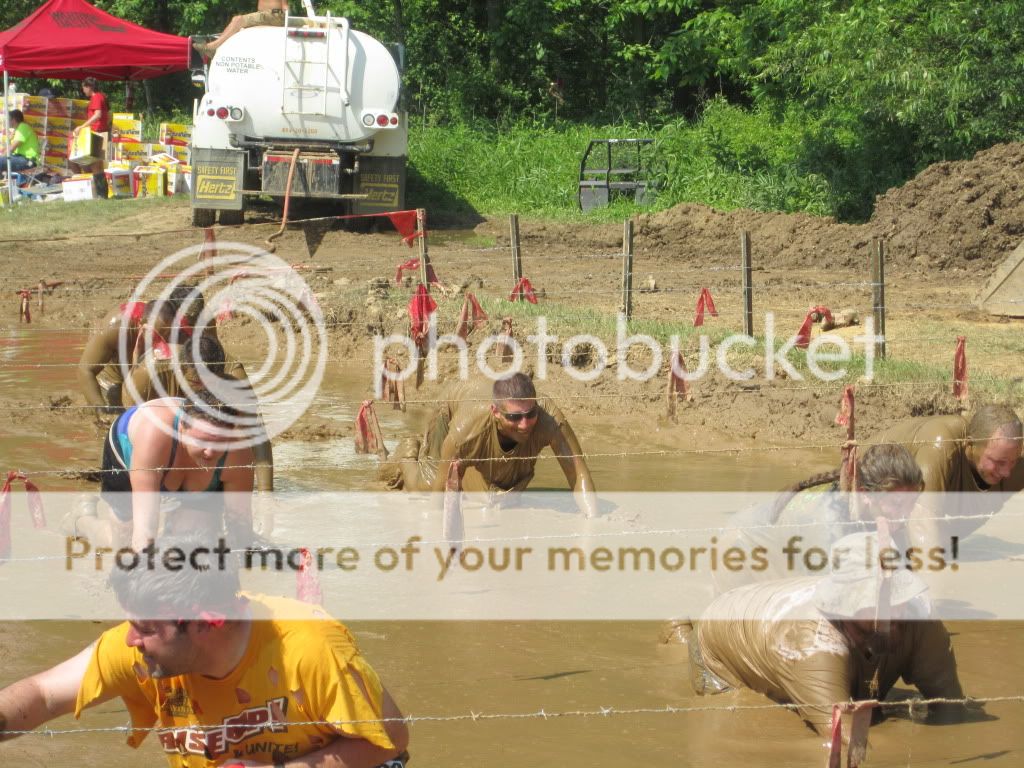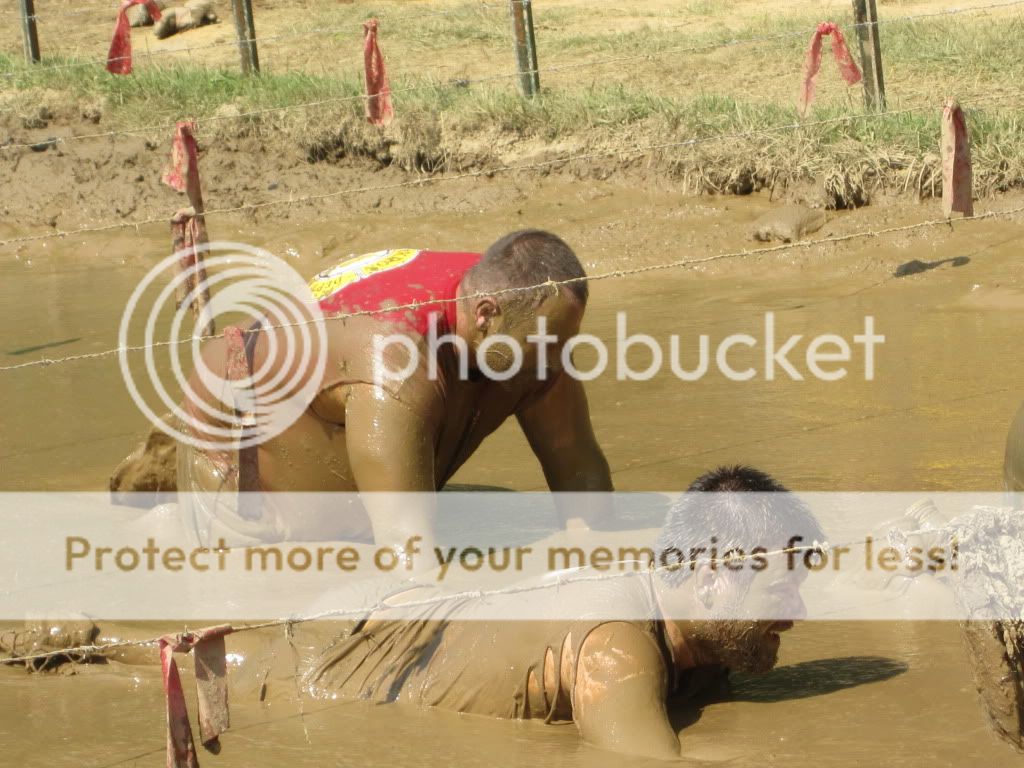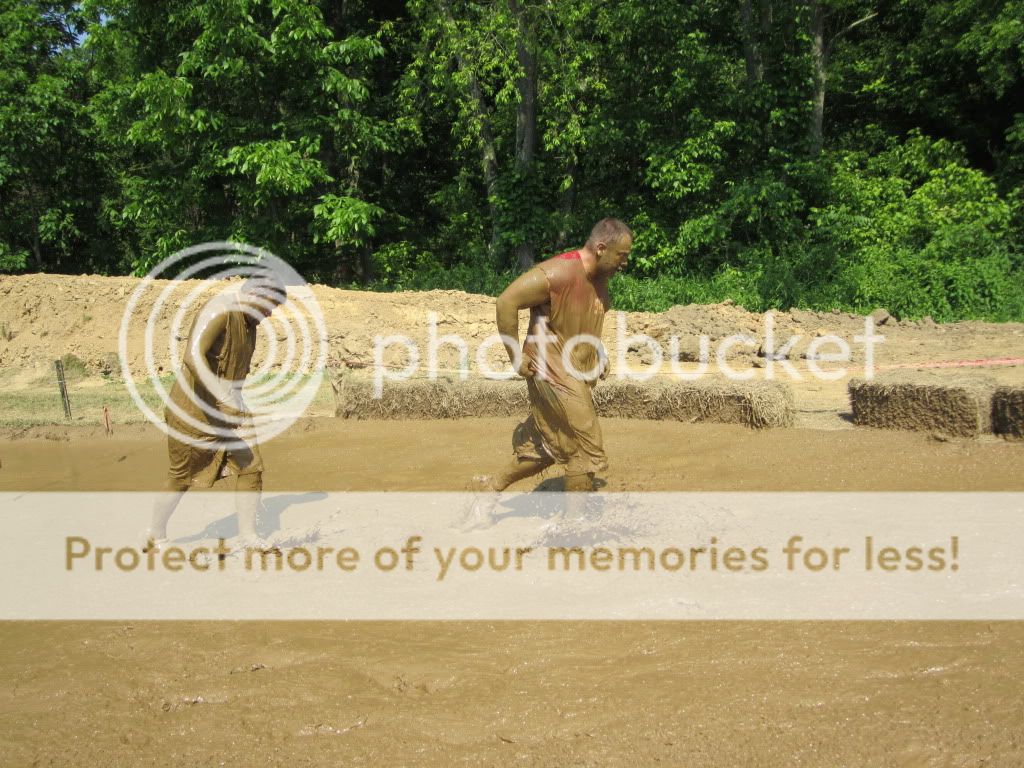 Once past the barbed wire there was quick tromp through some more mud and sprint to the finish line. The sprint turned out to be the tricky part. Mud plus mud plus grass plus sprinting equals ice rink.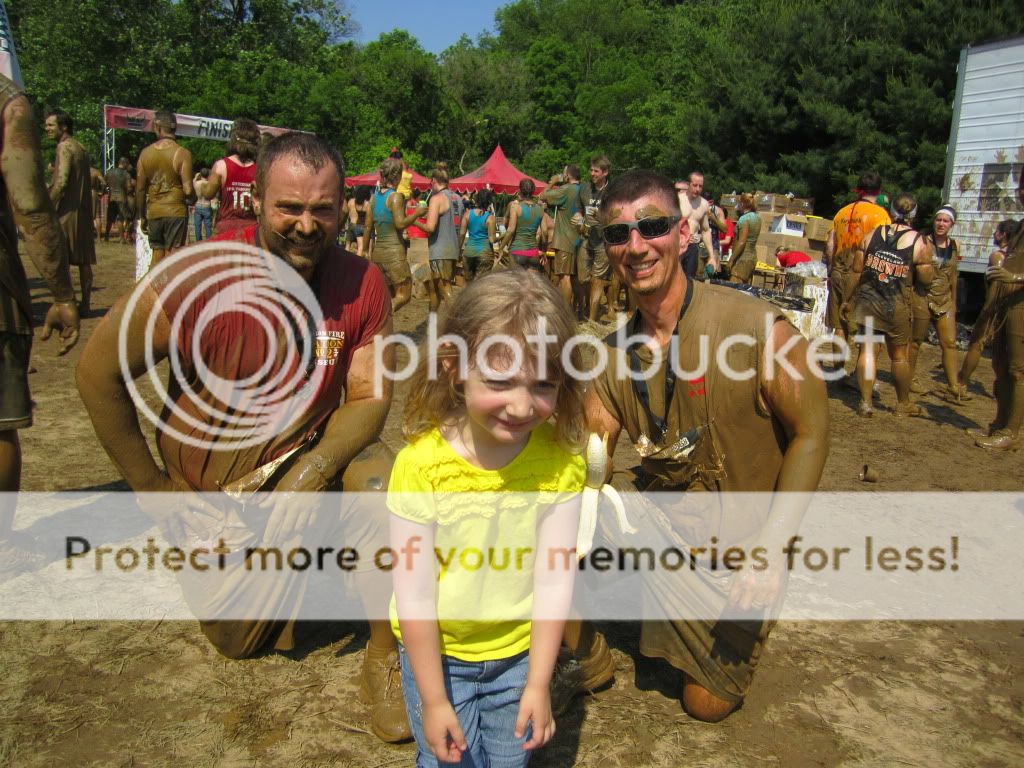 Overall the event was very well put together. Parking was off site and 10 dollars, that included shuttle to and from. No one stopped us to check out bags and I saw numerous people with rolling coolers despite the "no outside food or beverage signs" and there were more port-a-johns than I've ever seen at an event of this type. They had a couple of tents to check you bags if you needed and beer was $4 dollars for a 12oz draft. The only down side was a lack of shady, anywhere. It made for a long day for the spectators and families, which is why I gave my helmet and medallion to my daughter who cheered me on.