Joined

Jan 7, 2001
Messages

5,532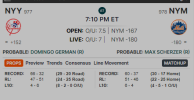 Free contests for members that have participated in at least one box pass here at CP and have a US address. You must provide a link to the pass with your guess.
Here's how it works:
Guess
1) The winning team
2) Over/Under 7 (total runs scored by both teams)
3) TIE BREAKER - The total of strikeouts by all pitchers (price is right rule)
If still a tie... random drawing to decide the winner.
4) Link to a pass you played in.
EX:
Mets
over
12

Ok here is the 2nd round of Habanos Limitada. Hopefully continuing a legacy started by HL l (djm's original). We have a few added players this round!!! I'm honored to add Jeff Laporte (H.A.A. originator) and Kelly Kimura ( Poker ) to this edition! I want to thank you all for joining in and...

www.cigarpass.com
Prize is a random 5 er from my traveldor.
Deadline for last entry is 7PM EST (10 minutes before the start)
Thanks for looking. Good Luck... let's see those old pass participations.