Obviously you're not a golfer.
Joined

Dec 28, 2021
Messages

1,347
Do any of you guys use locker service... or have you before? If so, what are your thoughts about them? Actually, that question is for anyone. Was at my local lounge Saturday night and I was talking (bragging) about the plans for my new humi.
A buddy asked, sort of jokingly, if I was gonna have lockers they could use. There was the initial round of laughter.. but then I started thinking about it, and a buddy noticed. He said he was just joking, but if I did he would pay the "regular price". I laughed and thanked him for his altruism.
I figure most of the forum are like me, DIY'ers with your collections. But I've seen plenty of lockers at B&Ms all across this country and many others.. so I know they're getting used! Some B&Ms don't allow you to bring in your own sticks (a topic for later), and you have to buy to smoke.. unless it's from your locker. I know some also don't mind as long as you order drinks and/or buy liquor.
So, I thought I could have a key that opens just that person's locker along with this door: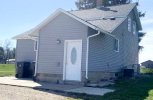 Coming in there you get the mudroom.. which has it's own lock to get into the rest of house.. or it takes you right to the basement: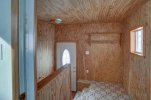 You get the general idea.. instead of taking the 3 steps there you can go down to basement. And there's literally nothing in the basement to have concern over.. there's the hvac, water heater and softener. Once you go through mudroom, it's a rather large laundry room, which is then connected to kitchen: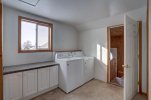 And the plan is to build the humi starting at the polls and going to the rockwall. A GC said he could do a light sandblasting of the stone to clean and polish them and then seal it all with a glaze that will "really make it pop". Here's a cropped and zoomed in shot of area: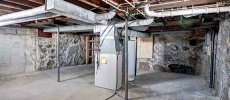 The whole hvac/waterheater/softener would have an enclosure around it with a door for service, I'd decorate its walls with various cigar stuff. The ceiling will all be finished.. haven't got to lighting yet, but will be nice.
So, during normal daytime hours, someone could come and access their locker and I wouldn't even need to be there. I already have cameras planned, and can see video in realtime like I'm already doing at my current condo. So I'd be notified when someone was there. So not worried about theft.. not exactly that kind of crowd ya know? Especially with cameras in place and me already holding their stash.
I figure it's a super easy way to have basically hands-off passive and residual income. A modest investment upfront and then autopay payments just rolling in month after month after that.
With seeing all that, any thoughts, feedback, concerns, etc, would be
greatly
appreciated!
Last edited: