It's not a lie if you believe it.
Joined

Dec 1, 2004
Messages

1,393
The saga continues...
I got home last night from being out of town and found another package waiting for me. Again, I got a huge smile on my face because I knew what was waiting inside for me. I shook it, and heard the wonderful sound of liquid. Hmmm, what am I going to drink tonight?!?!?!?!?
I decided to go have a cigar at the local shop with a friend. I took the package with me (hoping he'd help me open it! LOL). It says it's from Phil Cooper on the return label. You've been busy Phil!
Here is what it looked like when I opened it: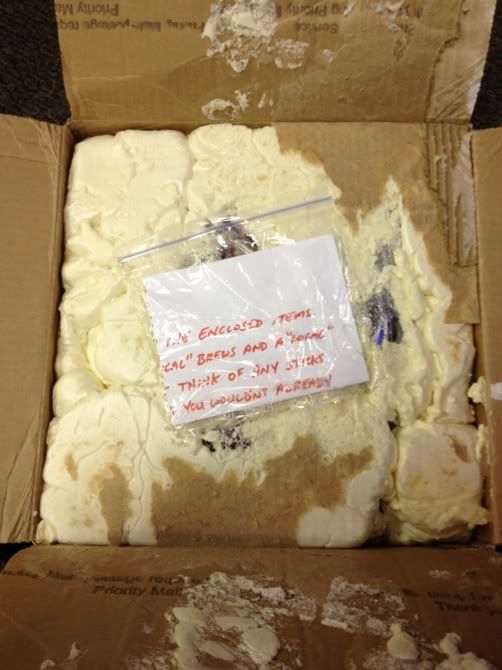 The note read like this: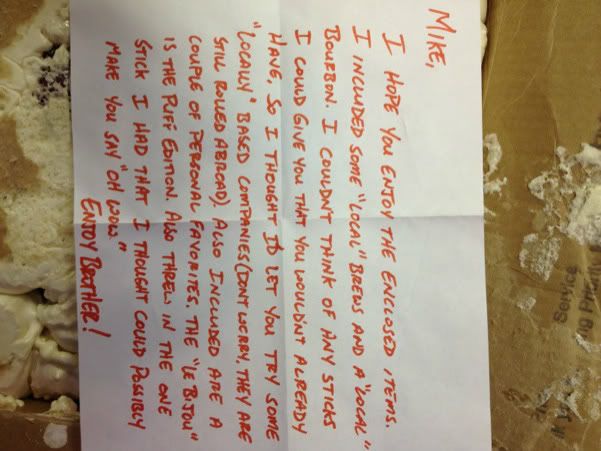 (Dammit, I thought I rotated that correctly. Sorry about that.)
How cool is that! I am giddy with anticipation. (Giddy? How gay does that sound. Who says that?)
Anyhoo, I grab a knife and start cutting and pulling foam off. Here is the first sign of life:
It appears to be a coffee mug or water jug of some kind. I break it loose and just about break my wrist trying to open the lid! I can see the cigars inside but can't get the damn thing open. Luckily my friend is there to help and we manage to pry it open using, what else, but a screwdriver. My go-to. Inside was a nice selection of cigars, 8 to be exact, with one tube included. I open the tube and find this: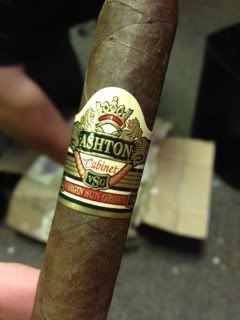 A VSG BELI ROUND!!! These are legendary smokes for me. I remember going through a couple of cabs of these back in 2000. Truly fantastic cigars. I immediately have to light it up, it has to be smoked! Thank you for the opportunity to smoke one of these again, it's been a long time.
Now, it's back to de-foaming. I manage to break one of the bottles free on the side and then we take a break to enjoy the booty!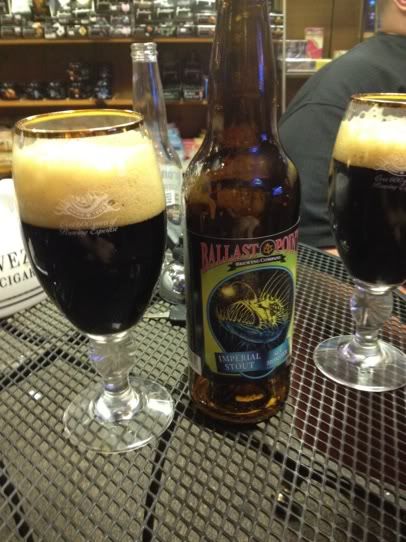 What a really good stout. I had never had it before but was very impressed. It had a nice hop character which I don't get often in a stout, and I'm not a hop head at all. But it was a solid stout and one I will seek out again. Plus the name kicks ass!
Back to work and I manage to get another bottle free: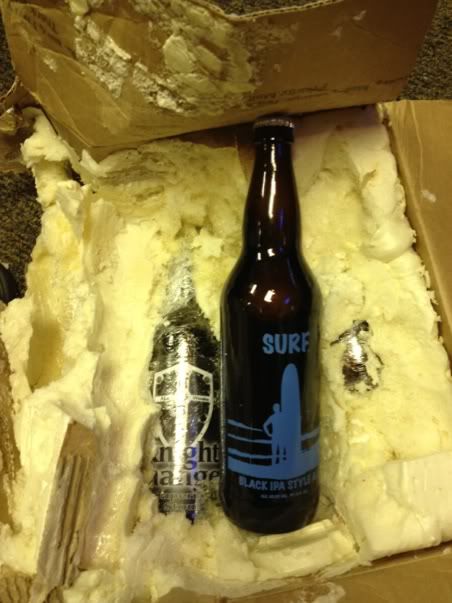 Another one I've never had. I decide to save this one since it's an IPA and I see another stout waiting for me!
Then the final bottle is the bourbon. Oh sweet bourbon. Here is a picture of all of the bottles (notice the knife marks on the bourbon label - LOL):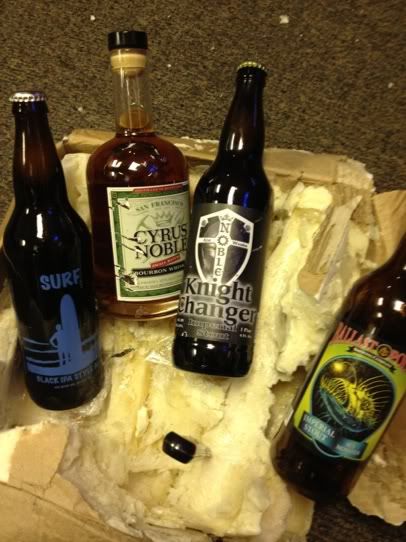 We decide to pop open the other stout next: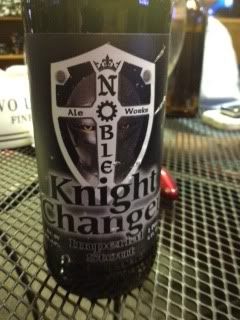 A smooth, solid stout. Nice choice newbie!
Well, this was another awesome experience courtesy of a very thoughtful newbie. I am not worthy of the generosity, but I sincerely appreciate it. I have had so much fun during this process.
That said, I need names!!!!!! The guilty shall not go unpunished!!!!!