Joined

Dec 18, 2009
Messages

2,585
First off I'd like to thank Jason for this amazing smoke, he mentioned that he slipped a 'lil something in my box but I was not expecting this!
The name of this cigar is intimidating, the weight in the hand is solid, the flower atop a perfectly constructed work of art from the dedicated craftsmen and women at Fuente. I have always wanted to light one of these up and was finally given the chance this past weekend (Father's Day).  
2009 Opus X BBMF Maduro
Wrapper:
  Dominican Shade Grown Rosado (Maduro)
Binder/Filler:
  Dominican
Size:
  6 1/2 x 64
Vitola:
  Perfecto
Drink:
  Water (no ice)
Location:
  Man Cave
Smoke Duration:
1.25 hours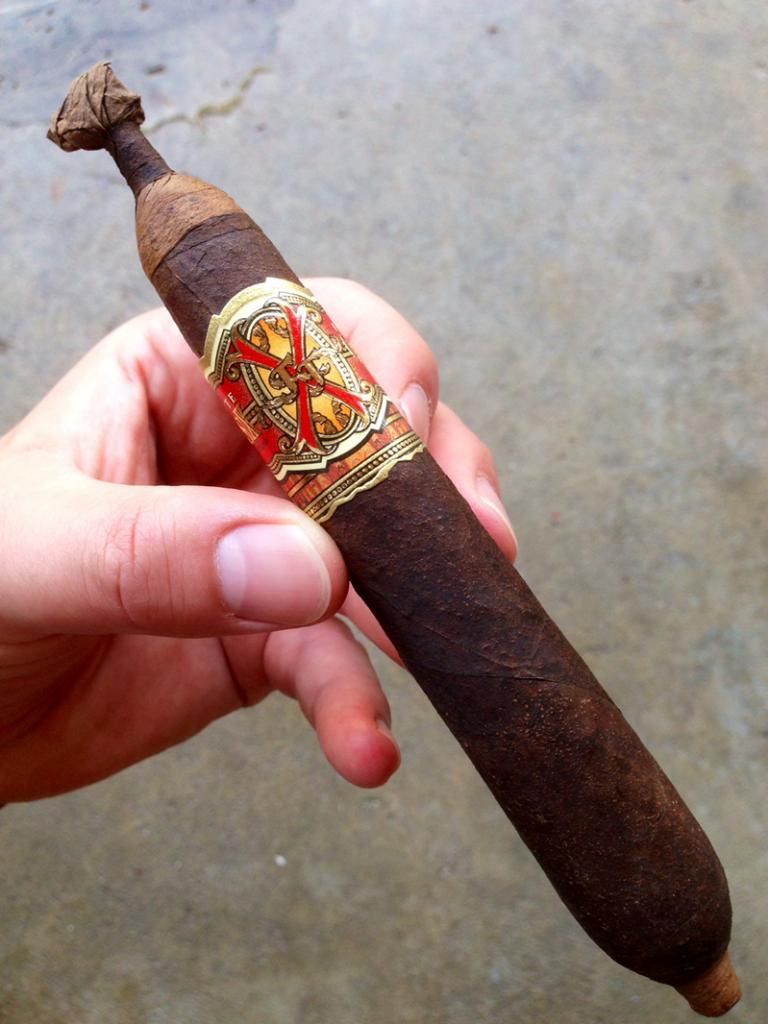 Construction/Appearance:
The BBMF has a marvelous firmness with no give to it, and the wrapper is pulled tight over the length of the cigar. It has a muscular texture and displays a wonderful tooth, I like seeing this knowing that it has seen some age and is ripe for the smoking. The BBMF comes with the usual beautiful label and an even more gorgeous flower on one end and a natural tip on the other.  At first glance, I hate to cut the flower but it must be done! The anticipation is rising as I prepare my pre-light ritual of gently toasting the foot. (in this case the tip) Using my Palió gifted to me by Tom I made a clean cut, and the flower fell into the ash tray. The smell of the wrapper is a delicate blend of spices, and it's time to start this ride.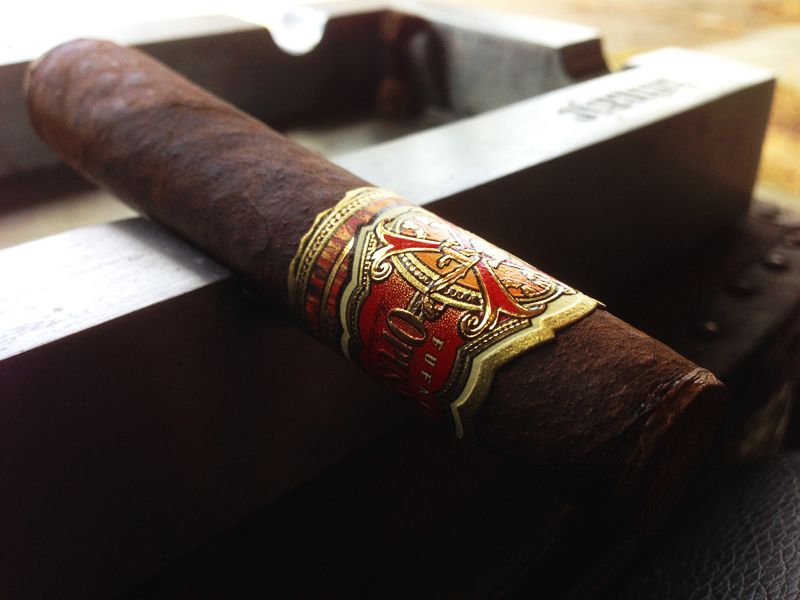 Burn/Draw:
The pre-light draw is even and reserved, not openly generous yet far from plugged. Notes of currant and raspberry fill my senses with awe, the leathery spice is there but not distractingly so. I've had many open foot OPUS that have been all too open with the draw forcing you to sip it lest it get too hot. Firing up my Trezo I toast the foot gently, the tip of the BBMF invites the flame with a steady line of smoke. From this point I know I must work the initial stage with care as I have to open it up enough to get past the threshold if the foot in order to achieve a full cherry.  
The cigar burns well and evenly through the nipple which took some care but no further torching was necessary.  The ash of this BBMF is absolutely stunning, revealing almost a pure white texture. Once the burn line crests the base the draw opens considerably, almost as a reward for taking it slow for the first 10 minutes or so. Smoke production at this point is grandiose, clouds of white smoke roll off tongue. Fantastic!  
Flavors/Aroma:
The Maduro wrapped Opus smells amazing.  The aroma coming from this cigar is none like I've experienced before, it's inviting, entrancing, and absolutely OPUS perfection. Initial flavors are a svelte sweetness with toasted tobacco and white pepper. As I watch the burn pull back evenly throughout the smoke I am noticing more oak/nuttiness at this point, a pleasant turn of events.  
Halfway through the smoke, I was wondering if I was going to be hit by the nicotine/strength.  Even though I had breakfast before smoking it, yet I never felt like I was being pushed around by the power that OPUS's can bring. The second half exudes sweetness and mellow flavors chocolate and honey is coming through the oaky/nuttiness. The pure tobacco flavor is great, knowing how much care was taken for this blend I could help but admire the Fuente families passion for the leaf. In the final third, I am encountering more spice with the sweetness playing a secondary role, espresso and leather notes are coming out, rounding out the power with finesse, perfection! Approaching the finish with the ceremonial band removal I know the end is near, a journey that I enjoyed greatly and will not soon forget.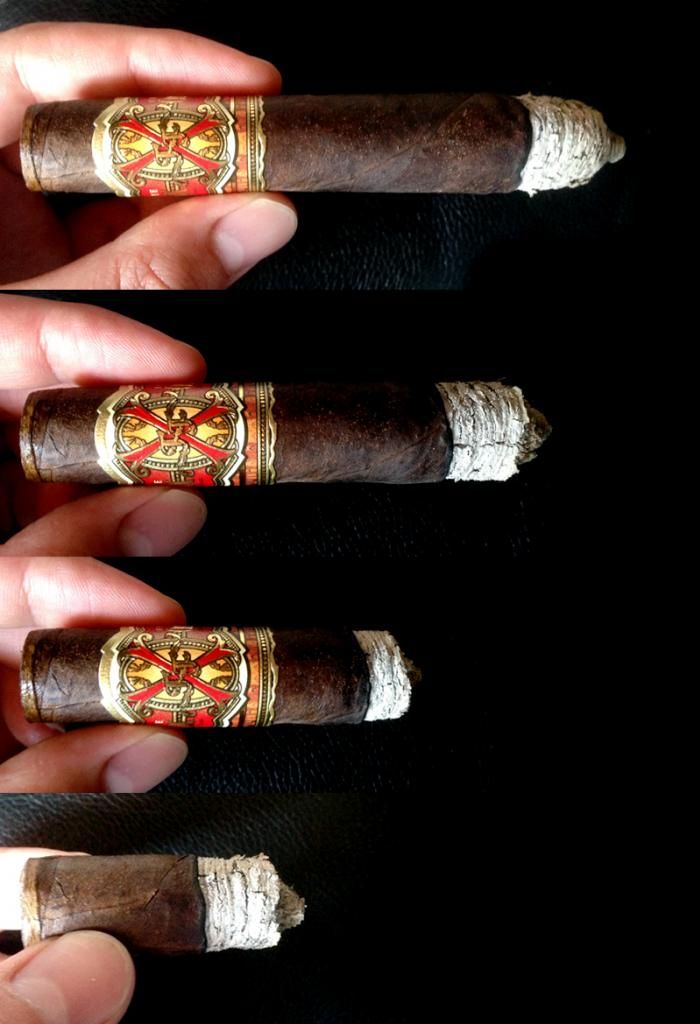 Final Thoughts:
The cigar I never saw coming never ceased to disappoint, Jason once again thank you for allowing me this experience. If you have the chance to get your hands on one, please do, if you have a chance to get a hold of one with age, don't hesitate to take all you can. DO IT!  
When you admire a marca like OPUS X, you approach each and every one of their cigars with expectations. When you have a BBMF in hand, staring back at you it's hard to put into words what you "should" expect, I think you should approach it more as what you're about "to experience". It's a knockout cigar hailing from one of the world's best, Tabacalera A. Fuente y Cia.