Rich Perelman, "Loren you have a Godlike Presence.
Wed, 24th Jan 2007 I decided to embark on a crazy journey through Chateau de la Fuente at 5:52pm. This journey has been
thought about for some time before I even aquired the Opus X 22 CFCF Fun Box back in Dec 2006. I had planned to take this box
down slowly and do a personal review of each stick. Its been some time since something on this scale has been done and you
didn't have to twist my arm. I simply volunteered my time and beloved sticks for this grand journey I am about to take. A
indepth look at these Opus X sticks from the eyes of your's truly.
http://i8.photobucket.com/albums/a18/Mr_Pe...SCN04660001.jpg
Above picture is the Opus X Forbidden X Chili Pepper in its Cello.
http://i8.photobucket.com/albums/a18/Mr_Pe...SCN04670001.jpg
Above is the Chili Pepper out of the Cello.
http://i8.photobucket.com/albums/a18/Mr_Pe...SCN04690001.jpg
Above picture is a close up of the cap.
http://i8.photobucket.com/albums/a18/Mr_Pe...SCN04720001.jpg
Above picture is a close up of a patch on this Chili Pepper. I was SHOCKED!!!!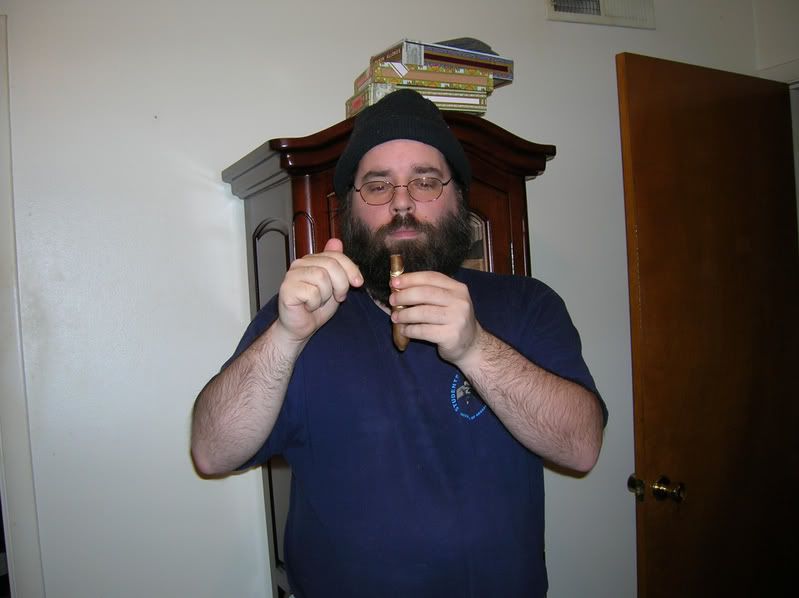 Above picture is me just having clipped the cap off.
Well, its time to light this bad boy up. What is on the chopping block you may ask yourself and its a simple answer. The
Chili Pepper is the first victim of the 22 stick box that will be sacrificed for your viewing pleasure. I took some nice
photos of it while it was still whole. I decided for this project of mine, a normal Xikar cutter wasn't going to be good
enough to clip these sticks. I decided to use the Casa Fuente cutter that I purchased back in Sept 2006. Unfortunately, many
great Opus X Forbidden X sticks was sacrificed without a review and this time, its going to be different.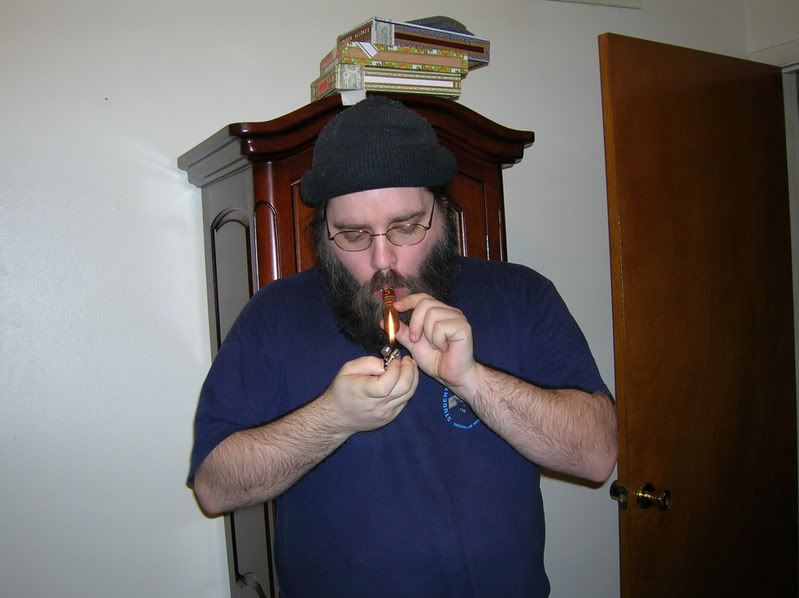 Above picture is me firing up the Chili Pepper.
So at 6:10pm, the beast is fired up. The initial taste off the wrapper had a little strenght to it which shows this isn't
a typical Opus X. I tried to inhale the first puff and that was a huge ass mistake. Just way to much concentrated smoke off
the initial first couple of puffs. Smelling the smoke at 6:13pm, I can tell this stick will be an interesting review. Granted
I had smoked a Opus X Forbidden X Chili Pepper back in Sept 2006 when I visited Seadub, Rod, and the other SoCal Crew that
showed up that night. With it being 6:14pm, as expected the smoke started to mellow out as the stick has slowly burned. But
there is still a subtle hint that this cigar has a kick. Well, more than a subtle hint as it makes the nasal passage feel
like I was snorting some rot gut Mad Dog 20/20 up my nose and then was torched by a gentle flame.
The first touch up was applied at 6:17pm as the burnt part creeps past the dome of the cigar. I expected this was going to be
the first troubled area of this smoke and now its burning like it should. Each puff there is plenty of smoke to examine. Yep,as
I expected the strength is still kicking strong at 6:21pm, but very impressed at the burn. As for the taste...This time it seems
to be a completely different experience than my first Chili Pepper. Other than the strength, it tastes better. This one has seemed
very mild to last year's one. Exhaling the smoke out the nose at 6:24pm it still seems to be very young. Completely burns the nasal passage and left me with the smell like I was standing out in a cattle field. Not a good impression if you ask me, but nevertheless, its a surprising smoke. Ahh ha...the first real taste of being a Opus slowly creeped out at 6:26pm and what a relief that had made me feel. Three sticks came to my mind just now. The Power Ranger, Perfecxion X, and the Petite Lancero is what I get from the stick at 6:27pm. I can easily detect the Power Ranger's strength and the subtle goodness of a aged Petite Lancero. But the taste seems of the Perfecxion X. I find this combination to be very rewarding as the first CHili Pepper didn't have these
characteristics like this one. At 6:32pm I had the first tingle of my tongue like it wanted to go numb from the potency of this
smoke. The smoke has been pretty gentle in the mouth the entire time. Rarely has the smoke been hot as I am taking my time with this interesting style of cigar.
http://i8.photobucket.com/albums/a18/Mr_Pe...SCN04740001.jpg
Above picture is the first touch up as I expected this was going to be at.
http://i8.photobucket.com/albums/a18/Mr_Pe...SCN04750001.jpg
Above picture is after a successful touch up.
http://i8.photobucket.com/albums/a18/Mr_Pe...SCN04760001.jpg
Above picture shows that the touch up worked like a champ.
Was sad at 6:40pm in that I had to do the first ash of it and only the 2nd touch up on this bad boy. The smell of the smoke seems
to one of a light smoke but in reality, it isn't that weak. I had to take off the 2005 band part and the infamous Arturo Fuente
Super Glue had to make an appearance. It tore the wrapper a tad, but hasn't hurt the cigar one bit which isn't a surpise with
the quality of smokes they put out on their premium lines. The whole Opus X quality has retreated once again at 6:46pm. Really it
probably started way back around 6:40pm but its ok. Now at 6:48pm I got the first taste of the tar building up within this smoke.
Its not a heavy presence nor did it stick around for very long and that made me happy.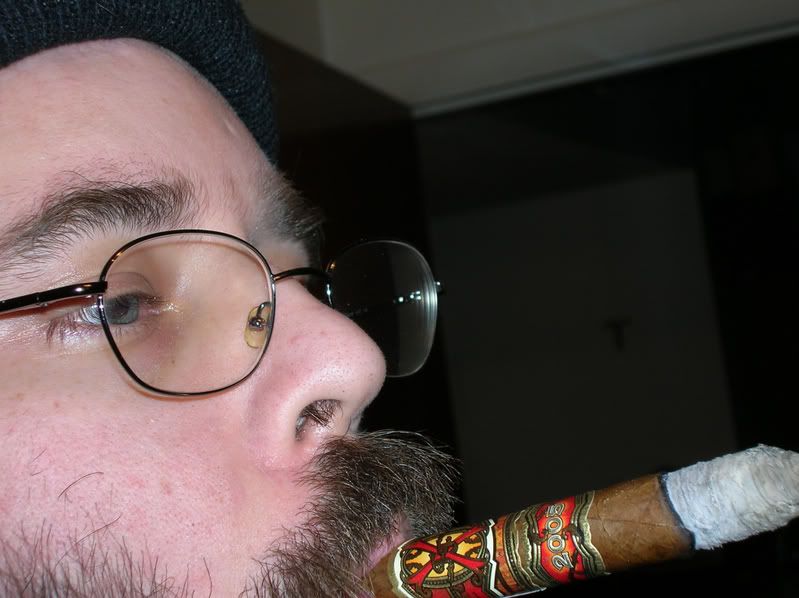 Above picture was a little before I had to drop the first ash.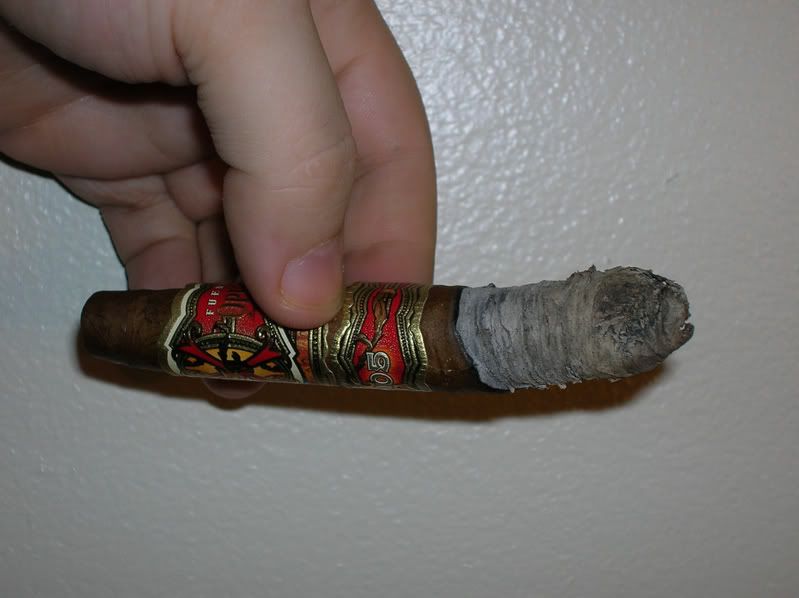 Above picture I hope of a successful photo as this was the ash picture before it was done.
Being 6:51pm and well into this stick, just breathing in the smoke from a puff starts to make me cough as its simply just has
one hell of a kick. Not that I mind since I do like cigars that have a kick. I can definitely tell a Opus X is being torched in
my place. I'm getting a little head rush at 6:53pm and boy do I feel soooooooooo good right now. I just hit the relaxed mode I
have sorely been needing since the last few days of November 2005. Alas, the band had to come off at this point and to my surprise, it came off flawlessly and that is a miracle indeed. Yes, I am happy that it came off with ease and not tear the cigar or band. I must have to say the burn has really surprised me this time considering the first Chili Pepper I smoked had a horrible burn. While typing that last sentence I had a brief lapse of bliss as a very mild and gentle raspberry taste came out at 6:57pm. All I can say at this point is simply, YUMMY!!!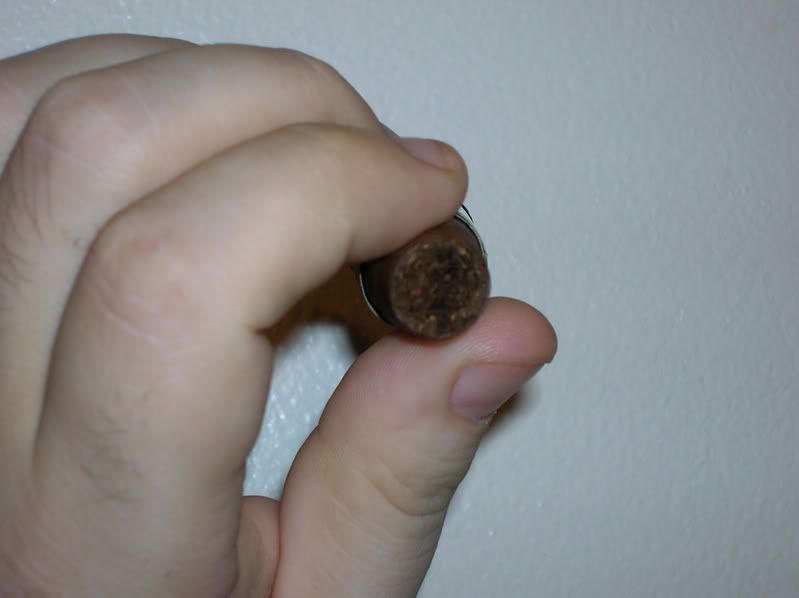 Above picture is the close up view of the tar starting to build up.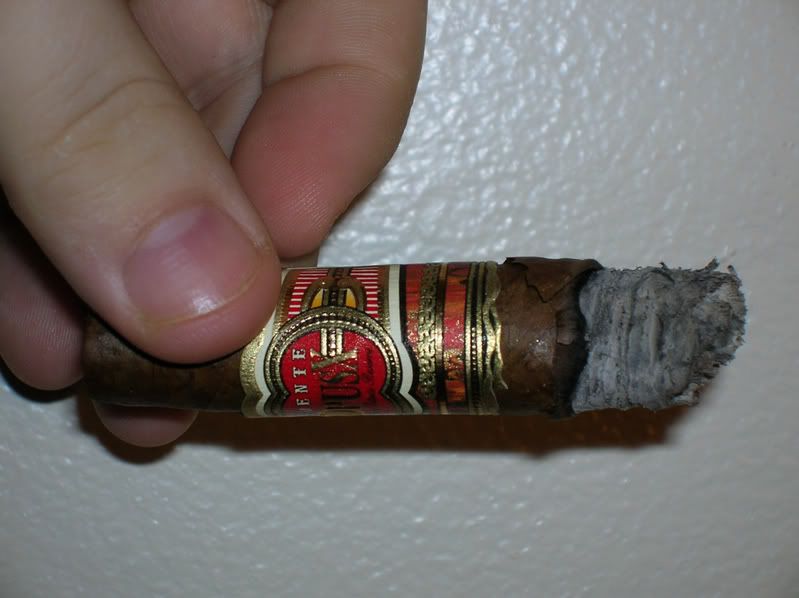 Above picture is after I toof off the 2005 band and shows the tear in the wrapper. Basically it popped.
I decided to do this review without any drink or snacks as I wanted to taste this cigar for what it truly represents. Naturally I
am very thirsty but I do not want this review to be soiled by any outside influence. Now at 7:07pm I had to ash the smoke which
I expect to see a change in the cigar and smoke. This has always been my experience while smoking any Opus X. And to my delight, the smoke has taken on a Opus smell once again and taste. The tar and strength taste is back at 7:11pm. Its not really distracting the experience of such a cigar as this. In fact, this is always the case for me on any Opus at this point of a cigar to take this taste. Naturally, the smoke has turned a little hot in the mouth so I'm just letting it cool down a little before I embark
on the next puff. During this whole time I have taken what I think to be some nice photos and I hope you enjoy them as much as I did taking them. After a 2 to 3 min cool down period I took another puff at 7:14pm and the tar taste has vanished once again.
Also the hotness disappeared a long with it and this makes me a happy cigar smoker once again. The smoke at this point has basically taken on a pure strength note and strong enough that my eyes burn a little. Plus a nice cigar buzz to go with it.
Above picture is after I took the Opus X band off.
Now at 7:21pm the cigar has left a nice little after taste of Opus in my mouth and taste buds. Even the lips started to tingle
at this point. Alas another time to ash the cigar at 7:23pm and its getting hard to hold the cigar while puffing on it. There just
isn't much room to hold the nub. But I am continuing to smoke it down to as far as I can and the nub isn't even wider than my
thumb at this point. Now I had made some Earl Grey tea when I started this and its now cold. I know it won't hurt the cigar
review now at this point in time as the cigar is just pure strength. Like I thought the tea didn't hurt the taste of the smoke at all.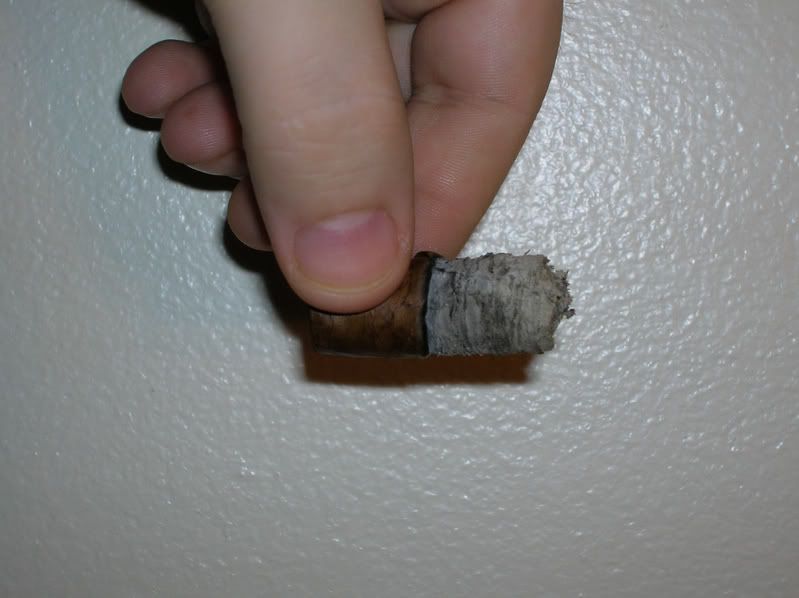 Above picture is of the nub that has started to form.
So onto my impression of this cigar. Considering I smoked a relatively young one back in Sept 2006 and again visited this same cigar in Jan 2007 with basically 2 years on it. Let me say this as these 2 different Chili Pepper's was a completely different experience. The first one being completely just raw strength and now balance to it. This time around the strength is still there, but has aged really nicely and balanced in my eyes. There were many different transitions with this cigar as well. The burn was awesome with only 2 touch ups. The first one was a lot of work as this version was not. I had to relight the nub at 7:32pm and when you see the pictures, it should say something for this smoke. If I would have given a rating for the first experience it probably what have been a 70 out of 100 points. This time its a different story being that I would give this one a 90 to 95 out of a 100 point scale. I would highly recommend to let this one take a long nap over a 2 to 5 year period before I smoke this one again as I feel it would be one great smoke. Pictures to follow once I am done with the nub as I have plenty to upload and edit in the review.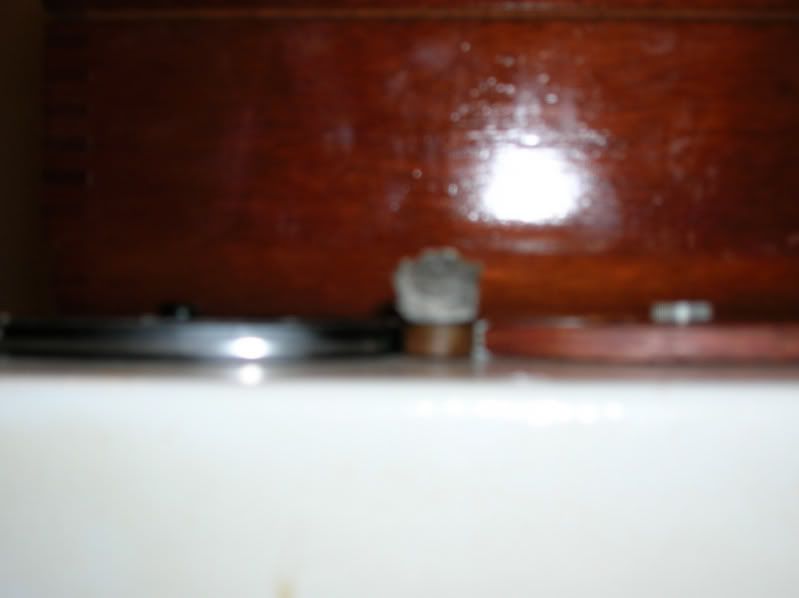 Above picture is the official nub of the Chili Pepper with a Xikar Cutter Black on the left and the Casa Fuente Wood Xikar on the right.