Rich Perelman, "Loren you have a Godlike Presence.
Drum roll please....On the 2nd of March 2007, a rare stick is hitting the chopping block. The Opus X LBMF aka Little Bad Mother Fucker was the next victim in the long and distinguished list of Opus that is getting reviewed. I cut the LBMF at 6:36pm. I had to include the Outlaw gang on this interesting review as I figured this would be the best Opus that will come out of the box. After a brief moment of looking the cigar, I came to the conclusion that it was a perfect construction. After I clipped it with my normal Xikar, I took an initial puff off the cigar to judge the draw. It had a very easy draw and that really pleased me. I decided to fire this bad boy up and the little tip of the Maduro wrapper that's on it was just heavenly bliss. Once the maduro tip was toasted and the thought that hit me first was that this is one interesting and unique smoke. In all my Opus X cigars I've torched, none even compared to this little gem.
The initial smoke revealed that this was going to be an in your face cigar. The smoke was so strong that it could bring tears to your eyes and you didn't have to be smoking it either to get it. One thing that was remarkable is that a little Opus quality peaked through really early. Nothing like a Lancero or Robusto, just subtle and teasing you to continue this journey. At this point, I had already judge this smoke to be the most potent I've seen off any Opus X and then at 6:42pm is when the real treat began. I held the smoke in the mouth to see what I could pick up as it was just to strong to exhale out the noise. To my surprise, Bourbon/wood characteristics was picked up on. Something I haven't experienced before. I could even smell these qualities off the cigar and that put a big smile on my face. This was what I have been searching for and it all came together in one blissful night of smoking.
Then at 6:45pm, is when the woody notes really made a presence in this cigar. I came to the conclusion that this was one hell of a nice transition the cigar had taken. One thing it did remind me of and thanks to OpusXKC aka Tony pointed out that it reminded him of a Petite Lancero. After thinking about it and I had to agree with him on this observation. Yes, I did let OpusXKC, Smokyballs, and OutlawD try this cigar as none of them have had it before. I had to share the love on this cigar. That was just a bonus for me as this cigar is just so damn good at this point. What was really interesting was at 6:47pm, a alcohol note came through as I took a puff. It wasn't overwhelming but just a slight hint.
Then at 6:51pm, another transition took place. A sweet characteristic had come through this power house of a cigar. At this point, the first thought that came to mind what this cigar is like liquid crack making me want my fix now. Just an amazing profile for an Opus X IMHO. Each puff the cigar got a little stronger and so did everything else that was taking place in this cigar. It raised the bar in a complete and unexpected quality that I haven't seen matched in any Opus X to date. Granted, I love the Lancero, but when I want something strong and balanced, this is the cigar I would turn too. The smell of the smoke is just so unique that I can't even place it.
Now a transition that takes place at 6:59pm, the smoke takes on a really mellow note to it. This is when the power of the smoke really becomes evident as it takes it up a notch on every buff. Not overwhelming either. Just simply balanced and complex. If you think the Power Ranger has a serious kick or another other Opus, then this stick will take you for a ride of your life and prove to you that this cigar is unmatched in the Opus X line up. Then at 7:02pm, a sweet spot was hit. This stayed for a little while until the next transition at 7:13pm which I finally decided to ash the cigar. The ash was a tad over 50% of the cigar. This cigar is just a delightful smoke and wrapped Heaven around it. Again, many others had took some sample smells of the smoke as I blow it to them. It literally will make you cry as it has a kick that is unmatched in my travels up to this point in time. Finally at 7:20pm, I felt the first signs of a world class buzz taking place. Not many cigars can do this to me and I was up for the challenge. Finally at 7:25pm, is the first signs of the tannin tar taste that peeps through. It wasn't overwhelming nor a distraction. The cigar rumbled on till 7:50pm pretty much the same as it was once the tannin taste hit. It did constantly pick up in strength and here is the nub. Pictures to follow shortly after I upload them and edit the post. SO on a scale of 1 to 100, I'd give this smoke a rock solid 100 as it hit the spot. Now this is just my subjective review and it may not be for everyone. But I will gladly give any LBMF a home.
http://i8.photobucket.com/albums/a18/Mr_Pe...SCN05370001.jpg
http://i8.photobucket.com/albums/a18/Mr_Pe...SCN05380001.jpg
http://i8.photobucket.com/albums/a18/Mr_Pe...SCN05390001.jpg
http://i8.photobucket.com/albums/a18/Mr_Pe...SCN05400001.jpg
http://i8.photobucket.com/albums/a18/Mr_Pe...SCN05430001.jpg
http://i8.photobucket.com/albums/a18/Mr_Pe...SCN05440001.jpg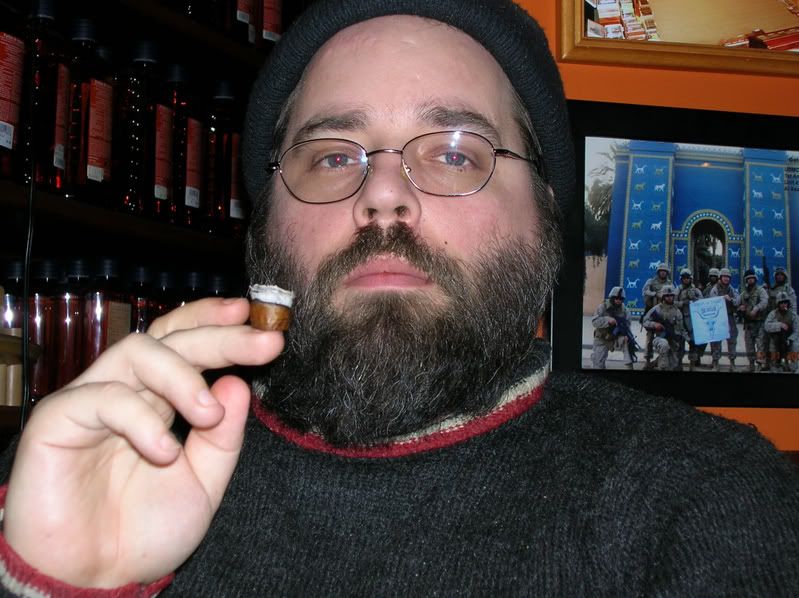 The Nub.
http://i8.photobucket.com/albums/a18/Mr_Pe...SCN05480001.jpg
OpusXKC taking a puff.