Rich Perelman, "Loren you have a Godlike Presence.
CFCF 2009 Opus X Perfecxion X 11th Nov 2010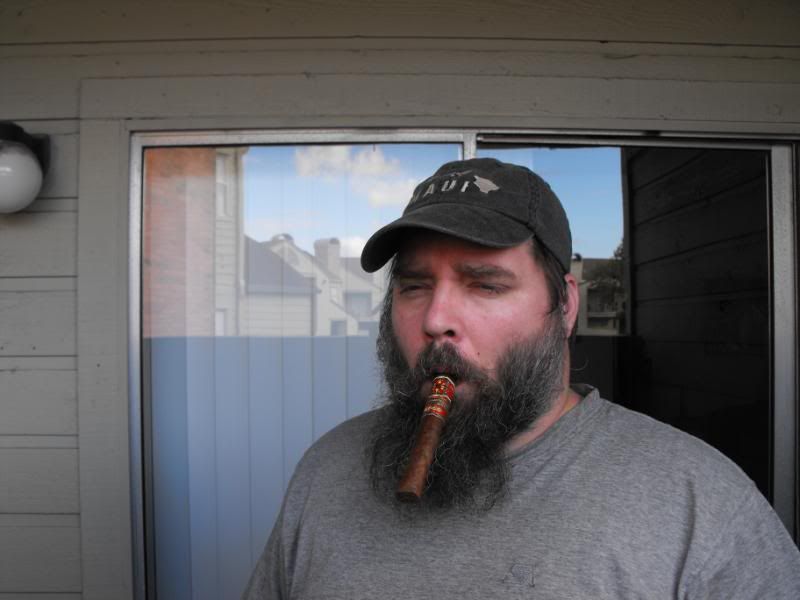 I fired it up at 3:08pm. There is a little tear in the wrapper which shouldn't hurt the burn at all. Luckily its in a spot that will burn up pretty fast after being lit. Other than that little flaw, the wrapper is in perfect shape and a little darker than the recent Opus X that has been released. The burn is great so far. The ash is borederline grayish white and the draw is fantastic. The first 1/2 inch the cigar has been a typical Opus X profile but it is lacking the raspberry notes I detect most of the time. I just exhaled some smoke out of my nasal passage and so far the cigar is mild and kinda young. I just had a slight alcohol impression when I exhaled some smoke at 3:15pm. It kinda reminded me of Bourbon. A subtle hint of a sweet after taste.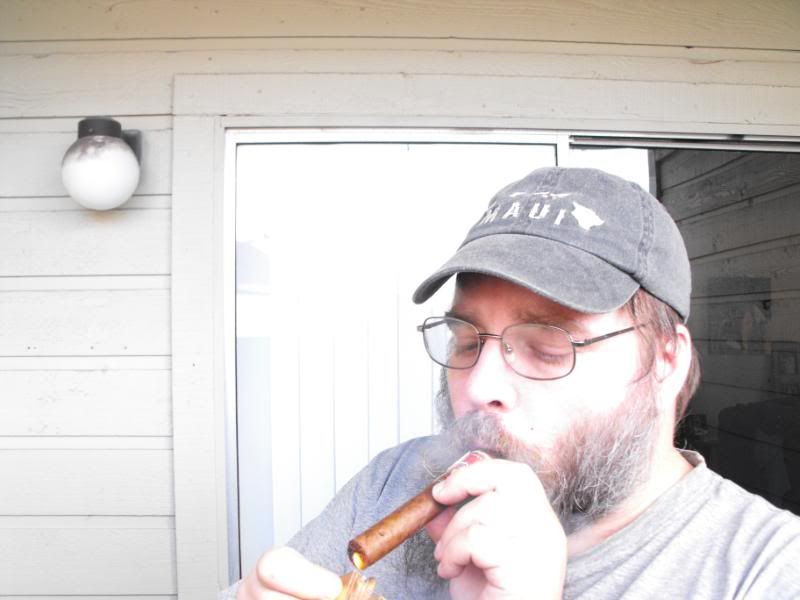 Time to ash at 3:16pm. For some reason I had the impression of a Portabella mushroom for a brief second after I ashed. Going to ash at 3:23pm and I did have a slight hint of raspberry tart notes there. So far the cigar is like a typical Perfecxion X. The burn, draw and plenty of smoke you come to expect from a Opus X is there. This cigar so far is mild. For a darker wrapper, I would have expected a little more oomph to the cigar. Ok, the cigar has started to pick up in the strength department at 3:30pm. I'm starting to get a little buzz going and this was another ash. Well it could be my dose of pain medication giving me a little buzz. :laugh: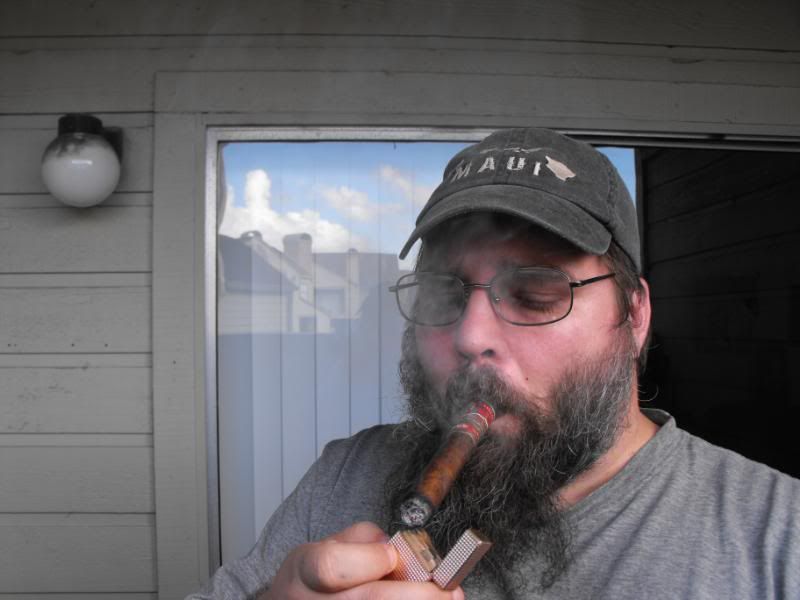 There is a slight sweet smell to the smoke that reminds me of some raspberries being warmed up in sugar water at 3:36pm. Still the cigar has been perfect in the draw, burn and plenty of smoke aspect. I just wished the cigar had a better flavor profile. I just don't smoke enough of the common Opus X any more so I lose some of my touch when it comes to the common line. Time to ash at 3;40pm. The lips are starting to tingle a little. I think there is a little peppery notes to the cigar but I can't be for sure just yet. Its a pretty mild note that I am picking up on. At least the alcohol taste is no longer with the cigar.
Ok I can definitely say I have one hell of a buzz going on right now. I'm still tired from my pain medication. So between the cigar and the medicine, my brain has one hell of a buzz going on. This is noted at 3:46pm. I am a little hungry so this is also a contributing factor of the buzz. Time to ash again at 3:49pm. There is a slight after taste I pick up on which is interesting. Well, after I blow the smoke out of my mouth. It reminds me of an earthy characteristic. I decided to each a blueberry waffle and bacon sandwich with real maple syrup on it. Hopefully the sugar will help counteract the nicotine buzz I have going on. So far it seems to be working as i would hate having my arse kicked by a common Opus X. I finished it at 4pm exactly.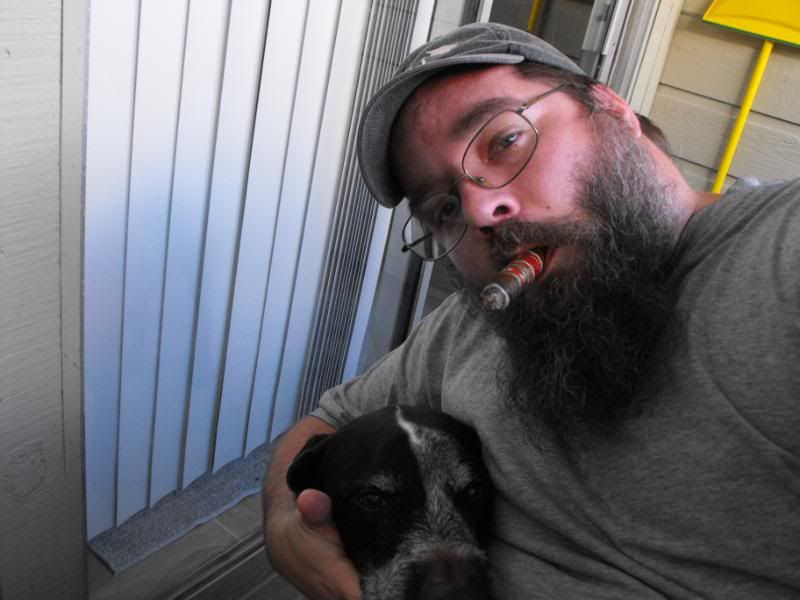 Time to take the 2009 band off at 4:03pm and another ashing of the cigar. The cigar has been pretty consistent so far. I noticed a few spots in the ash that reminded me of a cigar where the oils have crystallized under the wrapper. But it isn't peppery like you would find in a Padron 1926 and a 1964 line. I am getting pretty hungry right now so hopefully the nicotine buzz will stay pretty mellow. Time to ash at 4:14pm. in which the big band needs to come off at this time. Both bands came off without hurting the wrapper so the Fuente Super Glue wasn't a factor this time around. Still the little specks in the ash. Smoke in the left eye has left it in tears at 4:19pm. :laugh:
The cigar hasn't really changed since the 4pm mark other that the ash has gotten darker. Time to ash again at 4:23pm and the buzz is slowly coming back. I can tell I will need a nap but I want to avoid it if I can once the cigar is finish. No corrections needed on this cigar and the draw, burn and still plenty of smoke off each puff. You can't ask for more than this when smoking a cigar. I am totally relaxed right now. I just drank some fruit juice as the buzz is picking up. Its currently 80 degrees and not much of a breeze in the partial enclosed porch. Time to ash again at 4:32pm and the shakes have made an appearance. Of course I am listening to my Russian music while reviewing this cigar.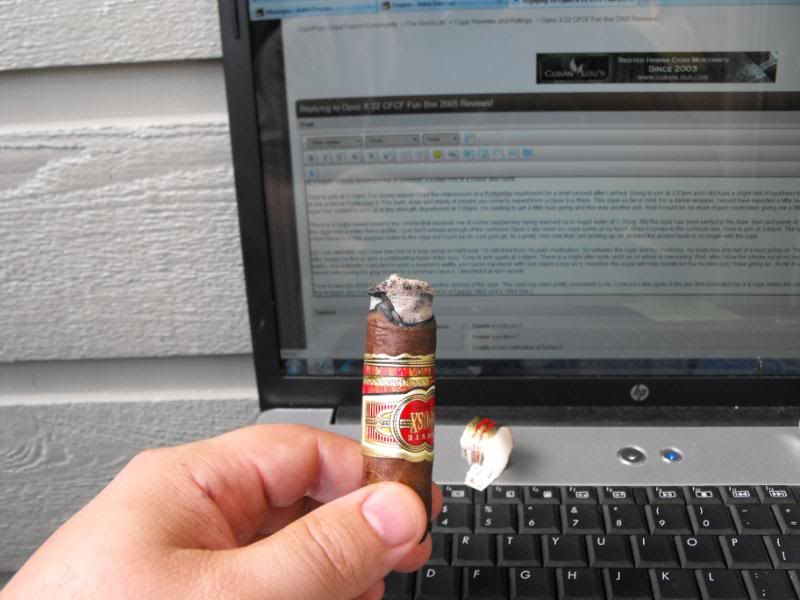 Time to ash again at 4:40pm and the cigar has pretty much stayed the same up to this point. But it has gotten a little stronger is the only difference. On the home stretch now with a little over an inch to go. There was a burnt pepper notes at 4:44pm which was good. Yep, the cigar is picking up speed like a fatman rolling down a hill for a box of donuts. The oils in the wrapper have started a nice coating on the outside at 4:47pm. Time to ash for the last time at 4:49pm and the cigar nub is starting to heat up. The battery on the laptop is getting close to running out of juice which is perfect time since the cigar is about done. Tossed the nub at 4:58pm. i'd give this cigar a solid 85 on a scale of 100. Pictures will come up later when I find my USB/SD card adapter. :thumbs: